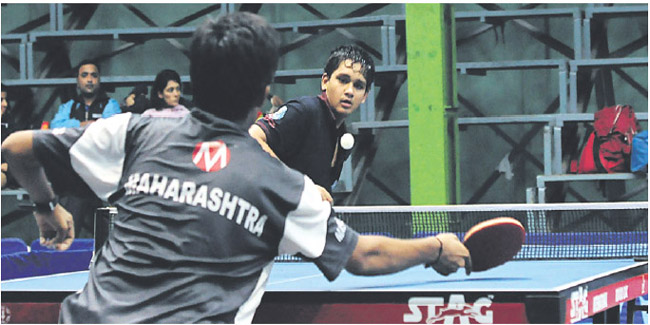 Nagpur : Keeping some hopes alive for city, Devdutta Fadnavis entered the junior boys final in ongoing Pramod Mahajan Memorial 5th Maharashtra Ranking Table Tennis Tournament organised by Nagpur District Table Tennis Association (NDTTA) at University's Subhedar hall, here on Friday.
In the semi-final, second seed Fadnavis got the better of third seed Parth Phansekar of Thane 12-1, 9-11, 11-5, 8-11, 11-6, 11-7. . In the final he will take on top seed Ravindra Kotiyan of (MSD) who quelled the challenge of Arbaz Sheikh 11-8, 10-12, 11-7, 11-9, 14-12.
In the girls section, Dyuti Patki of MSD and Sanika Divekar of Thane set up a title clash.
While eight seed Dyuti shocked fifth seed Ashlesha Trehan of MSD 11-8,11-7,7-11,10-12,11-9,11-8 , second seed Sanika overcame third seed Rutuja Khopkar also from Thane 11-7,11-4,12-10,15-13.
In the youth girls section, Charvi Kawle (MSD), Shirin Inamdar (THN) and Shweta Parte (MCD) entered the semis.
Charvi Kawle downed Akshi Sancheti (MSD) 11-4,11-7,11-4,6-11,11-3. In another encounter sixth seed Shirin surprised third seed Vedika Garg of Thane 11-13,12-10,12-10,11-8,12-10. Shweta Parte entered the semis defeating Sanika Divekar 11-7,11-3,11-3,11-7.
In the youth boys section, top seed Ravindra Kotiyan (MSD), Rhys Albuquerque (MSD) , Parth Phansekar (THN) and Arbaz Sheikh (THN) entered the semis.
In the men' singles Sanil Shetty(MSD), Zubin Taraporwala (THN), Chaitanya Udare (MCD) and Eric Fernandes(MSD) booked semi-final berths.
In women's section, Runa Roy(MSD), Shweta Parte and Rutuja Khopkar stormed into semis.
On Saturday prize distribution function will held at 3 pm followed by veteran's event at 4 p.m.