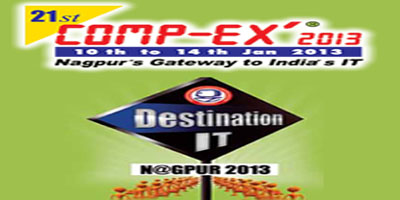 Nagpur News : Vidarbha Computer & Media Dealers Welfare Association (VCMDWA) an association ranked 2nd best association in the whole country represents Nagpur's IT dealers.  Every year it holds a Mega Exhibition COMP-EX showcasing current technologies and products from the IT field. The 21st Comp-Ex' 2013 to be held between 10th to 14th January at the sprawling Kasturchand Park, Civil Lines promises to hold a bonanza  for all IT users.
VCMDWA yearns to provide deep knowledge, knowhow about current trends and future ROADMAP of IT Products, Technologies and Solutions during Biennial held event named DESTINATION IT which runs concurrently with the mega IT expo Comp-Ex. During this a lecture based series of seminars will be delivered by renowned IT Technocrats as speakers coming from Delhi, Mumbai, Bangaluru, Hyderabad & Pune. DESTINATION IT 2013 promises to satisfy the  IT quest of the knowledge seekers in informed manner.
In a joint effort with Jt.Director – Technical Education; VCMDWA is inviting students from various Colleges in and around Nagpur to attend FREE seminars on current hot topics as Big Data Analysis, Cyber Security, Cloud Computing, Windows 8, Careers in IT & Employability Skills Enhancement.
 Speaker for Big Data Analysis is Mr. Prashant Pansare, Chief Executive Officer of M/s.  Inteliment Technologies; who are market leaders in Business Analytics in Cloud and on Mobility,have been recognised by Govt. of Maharashtra as an innovative IT SME for 2011. They had won Entrepreneurial Company award by World COB  USA 2010. His discourse would elaborate on past, current and future trends of Big DATA Analytics and different associated technologies covering unnoticed Business Intelligence programs by conventional ones.
 As internet , on-line e-commerce and e-mail have become an ever-increasing part of our 21st Century lives, the myriad dangers and risks that come with them are increasing too. On Cyber-Security, Mr. Rakesh Goyal CEO of M/S Sysman Computers Pvt. Ltd., Mumbai who is the leading Cyber Security expert in the country and has authored the first book on cyber Security. They are registered as security consultants for Wide range of Banks.
 The scope and usage of Cloud Computing will be elaborated by Mr. Shabbir Momin , MD & CTO of Zenga TV. The experience of extending best possible scenarios of how Cloud Computing can be utilised is pioneered by M/s Zenga TV by means of their Mobile products and services offered . Zenga is pioneer in offering solutions out of the cloud infrastructure utilising Amazon Web services and Rackspace hosting and would effectively communicate as to how utilise social media; online services; WAP services; App services etc. Zenga TV is already popular among the youth of today.
Mr. Praveen Kamath, Global head,Talent Acquisition, WIPRO BPO  has consented to be a part of this event  and will himself guide the students on various Career Options in IT. There are many new career options available other than the traditional careers in IT. He will enlighten the students on these future upcoming career options.
In addition to these topics Seminars would be conducted around topics based on Microsoft Winodws 8 by a special team coming from Microsoft India.
 The registration for these seminars are FREE and VCMDWA has appealed to the student community to avail this opportunity and register themselves through their college  or directly on the  associations' website www.vcmdwa.org.