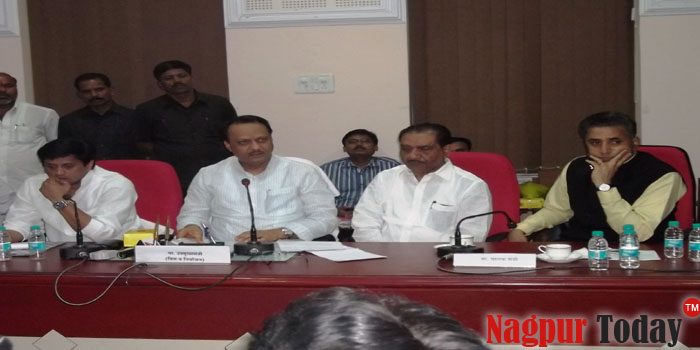 Nagpur News : State's Deputy Chief Minister Ajit Pawar visited Nagpur on Tuesday and presided over a meeting comprising all the district collectors of Vidarbha including Nagpur.
Pawar, in his short visit, reviewed various development projects in the region and instructed the officials to speed up the works and follow strict time bound schedules to meet up the deadlines.
About the pending irrigation projects, Pawar said that the works lagged behind in the region would be sped up and funds would be made available for smooth functioning of the executive body concerning the projects.
Meanwhile, Pawar smartly dodged a question regarding the recent statement of Pakistani Foreign Minister in regard to providing extra security to Bollywood star Shahrukh Khan. He said that the matter is related to Union Government and not concerned to Maharashtra in any way.
It may be noted that Shahrukh has recently said in an interview that being a Muslim he has to face lots of problems in the country, particularly after 9/11 attacks in New York.
Pawar said that he was ready to answer any question regarding Vidarbha. "Ask me about Gosikhurd not Shahrukh", he quipped.
When one of the scribe intervened asking that Shahrukh resides in Mumbai, Pawar skipped the reply.