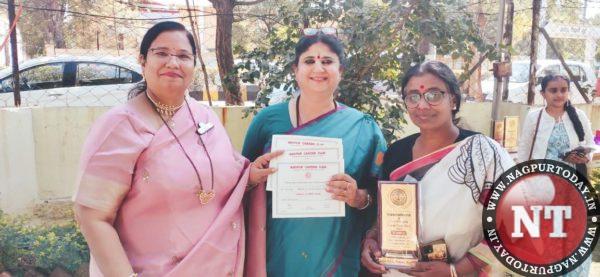 'Green fingers lead to golden harvest'. The lush green gardens of Delhi Public School Kamptee Road, Nagpur bagged the first prize in the category 'Public Vegetable Garden' and the second prize in the category Big Institutional Garden'. The award was presented by Shri Ram Joshi, Additional Commissioner, City and services at the K.K. Thakur Memorial Hall, Nagpur Garden Club, Civil Lines on 5th February, 2023. The Nagpur Garden Club & The Hitavada organized the 'Annual Flower Show 2023' in memory of Leelatai Subhedar to enhance and increase public interest in flowers. A team from the club visits the premises of the participants to judge their Rose Gardens, Lawns, Kitchen Gardens, Terraces and Balcony gardens.
Delhi Public School Kamptee Road, Nagpur sprawls across a lush green, naturalistic, peaceful and protected 17 acres of land. It is one of those places which preserves and upholds greenery with a wide range of attractive seasonal flowers and exotic plants. The visitors were delighted to witness the variety of plants in their mesmerizing colours and an array of other seasonal flower plants and the vegetable garden.
The school gardens are an important part of our educational programme and provide hands-on learning experiences for our students in areas such as horticulture, biology, and environmental stewardship. On the other hand, the kitchen garden has become a source of fresh, nutritious produce for our school community and a demonstration of the school's commitment to sustainable food systems.
This recognition is a testament to the hard work, passion and dedication of Ms. Tulika Kedia, President and Pro-Vice Chairperson, Delhi Public School Kamptee Road and MIHAN, Nagpur, an ardent nature lover and nature conservationist who has a deep respect for the natural world and a commitment to protecting it for future generations.