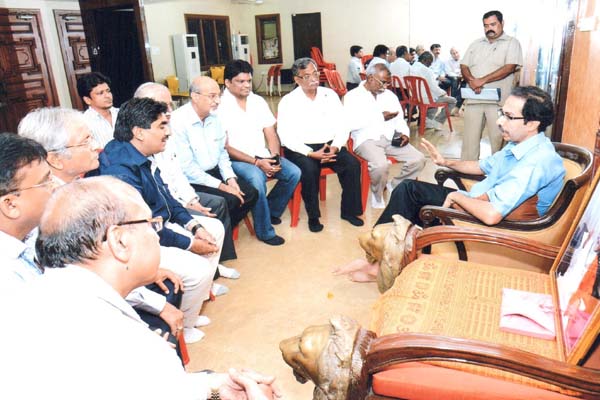 Nagpur News: A delegation of Federation of Associations of Maharashtra met Udhav Thakre,President, Shivsena at Mumbai. Dipen Agrawal, President, Nag Vidarbha Chamber of Commerce was part of the delegation.
The delegation explained him that the Government of Maharashtra has abolished Octroi and imposed (LBT) Local Body Tax from 1st April, 2013 in 25 cities of various Maha Nagar Palika time to time. Due to imposition of LBT the trading community of Maharashtra as well as consumers are in great trouble looking to the various obnoxious rules and cumbersome regulations of Local Body Tax. The Trading community are experiencing hardships and observed trade bandh protesting against LBT for a long period. FAM President, Shri Mohan Gurnani thanked Shri Udhav Ji Thakre for his & Shivsena's support in the agitation.
Dipen Agrawal briefed  Udhav  about the traders being not aversed to collect and pay taxes to the Corporations directly and also discussed various alternative taxes to LBT mainly surcharge on VAT.
 Udhav Thakre, President, Shivsena patiently heard the problems of LBT and apprised that he is also fully aware of the situation. He desired that suitable substitute would be chalked out shortly in respect of implementation of LBT by the Government so that the revenue and autonomy of Municipal Corporation would not be hampered.
FAM proposes Dipen Agrawal's name for High Power Committee on LBT:-
In the meeting with Prithviraj Chavan, Chief Minister &  Sharad Pawar, Agriculture Minister GOI & Representatives from Trade, Chief Minister had announced to form a High Power Committee on LBT under the Chairmanship of Shri Jayant Kumar Bhantia, Chief Secretary which shall discuss and decide on an acceptable alternate to LBT. FAM has proposed following names to be part of the High-power committee on LBT.
1.      Shri Dipen Agarwal – Nagpur

5. Shri Sadanand Korgaonkar – Kolhapur

2.      Shri Vinesh Mehta  – Mumbai

6. Shri Ajay Shah      –    Aurangabad 

3.      Shri Ashok Bapna   –  Mumbai

7. Shri Viren Shah    –    Retail Trade

4.      Shri Ajit Sethia         –  Pune

 
The above seven member team will be led by Shri Mohan Gurnani, President, FAM and shall be assisted by two Senior Constitution & Tax Consultants namely Shri Prakash Mehta and Shri Deepak Bapat for effective participation states in a press note issued by Shri Hemant Gandhi, Secretary of the Chamber.