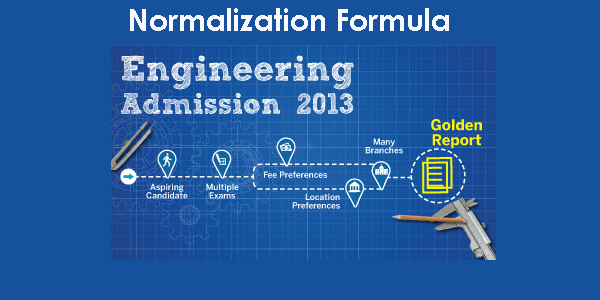 Nagpur News: With HSC State Board results out and Joint Entrance Test (JEE) declared a few days ago, students are surrounded with uncertainties regarding their admissions in engineering colleges. When Nagpur Today scribe spoke to the students, a different scenario came to light. Many students are fearing that with large number of CBSE students achieving more than 90 per cent marks, their chances to get admitted in good colleges are minimal. Nagpur Today made an attempt to clear the cloud for the students. In JEE, 40 per cent Board marks and 60 per cent marks of JEE are included to select the students. Thus, with large number of CBSE students scoring more than 90 per cent, the tension among State Board students has increased.
Here are the details on how the students will be selected for Engineering Colleges.
Normalization Formula:
Going by the sources, a normalization formula has been introduced in JEE for fair and unbiased decision towards students. According to this formula, the aggregate of highest marks of students from different boards will be taken into consideration and on the basis of these aggregate marks, admissions will be given to the students. Students are asked to submit the name of examination Board, roll number and related information to JEE. After that, the responsibility of fair selection will be on State Board, central Board and JEE. The final list of JEE will be announced after 15 days of declaration all the results of state board and Central Board examinations. Here is the formula:
B Final: 0.5 * (B1 + B2)
Final result – 0.6 * Ao + 0.4 B Final
And, Ao stands for JEE Aggregate.
Inclusion of major five subjects:
The normalization formula was made keeping in view the different examination patters of various boards. All the boards including State Boards, CBSE, AISCE and all other boards across the country have been included under this formula. The final normalization score will be decided on 50:50 basis. Marks of major five subjects will be added for calculating the final score in which Mathematics and Physics while other three subjects will be decided on the basis on highest marks acquired in the subject. One subject among Chemistry, Biology, Bio-technology, and Computer Science; one subject of language and another one subject from any of the above mentioned. JEE scores and percentile of major five subjects of boards will be used for the final scores.
Clearing the cloud for the students, C Satija, President, Nagpur Region, Akash Institute said that the selection of students in JEE will be based on normalization formula which was introduced to maintain the transparency in the selection procedure. He assured that the unfair and baised decision will be made for the students.