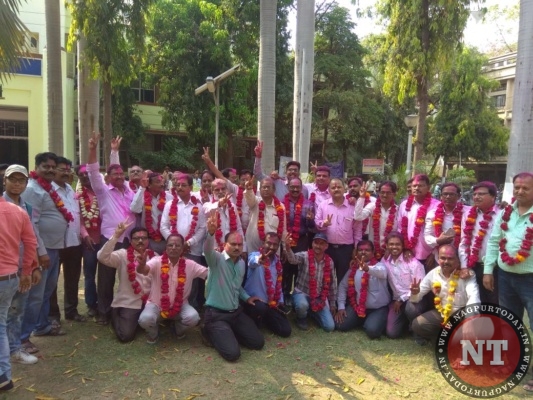 Nagpur: The triennial elections of Nagpur Municipal Corporation Employees union were held on 10 March, 2018. The ruling party's 'Apna panel' formed under the presidentship of Chief Minister had to face defeat. Only 32 candidates of this panel would win while all the opposition group contested the election jointly under the name of Parivartan panel and won 42 seats.
The new executive body will be formed today in the meeting of Parivartan panel's newly elected candidates. The newly elected candidates of Parivartan panel are- Ranjan Nalwade, Dilip Nikhade, Narayan Wankhade, Maruti Nasare, Manjushri Kanhere (all from Water Supply Deptt), Milind Chakole, Balwant Gajbhiye (Electricity Deptt), Bhimrao Landge (Backward Class Deptt) Baliram Shende, Raju Nannaware, Sunil Datar, Satyawan Meshram, Yogesh Nagey, Vilas Yewale (Malaria, Filaria Deptt), Baba Shrikhade, Yogesh Borkar, Sheetal Jambhulkar, (Tax Deptt), Sanjay Mohale (Transport Deptt), Devanand Waghmare (Cage House Deptt), Gautam Gedam (Garden Department), Vilas Chahande, SU Maundker, Seema Meshram (LBT Deptt), Dattatray Dahake (Finance Deptt), Naresh Rewatkar (Public Works), Sanjay Thingane (Encroachment Deptt), Mangesh Deshpande (Marketing Deptt).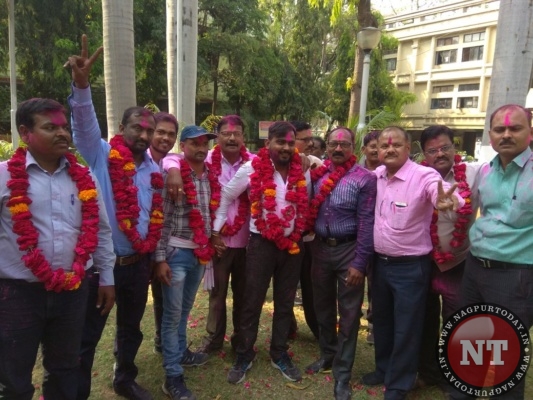 In the election held for the executive body yesterday the Parivartan panel bagged 11 seats out of 18. Those elected are Purshottam Kaikade, Sanjay Atkine, Vijay Lute, Hemraj Shindekar, Mohan Takmavare, Vishwas Selsulkar, Pushpa Verma, Manohar Mahakalkar, Syyed Muzzafar Ali, Prafulla Tingane, Premanand Adkine.
Since the Parivartan Panel got the majority all the five co-opted members were theirs. They are Surendra Tingane, Ishwar Meshram, Sudama Mahajan, Pravin Tantrapal, and Rajpal Khobragade. The meeting to be held today for the new executive body Surendra Tingane may be become the president.