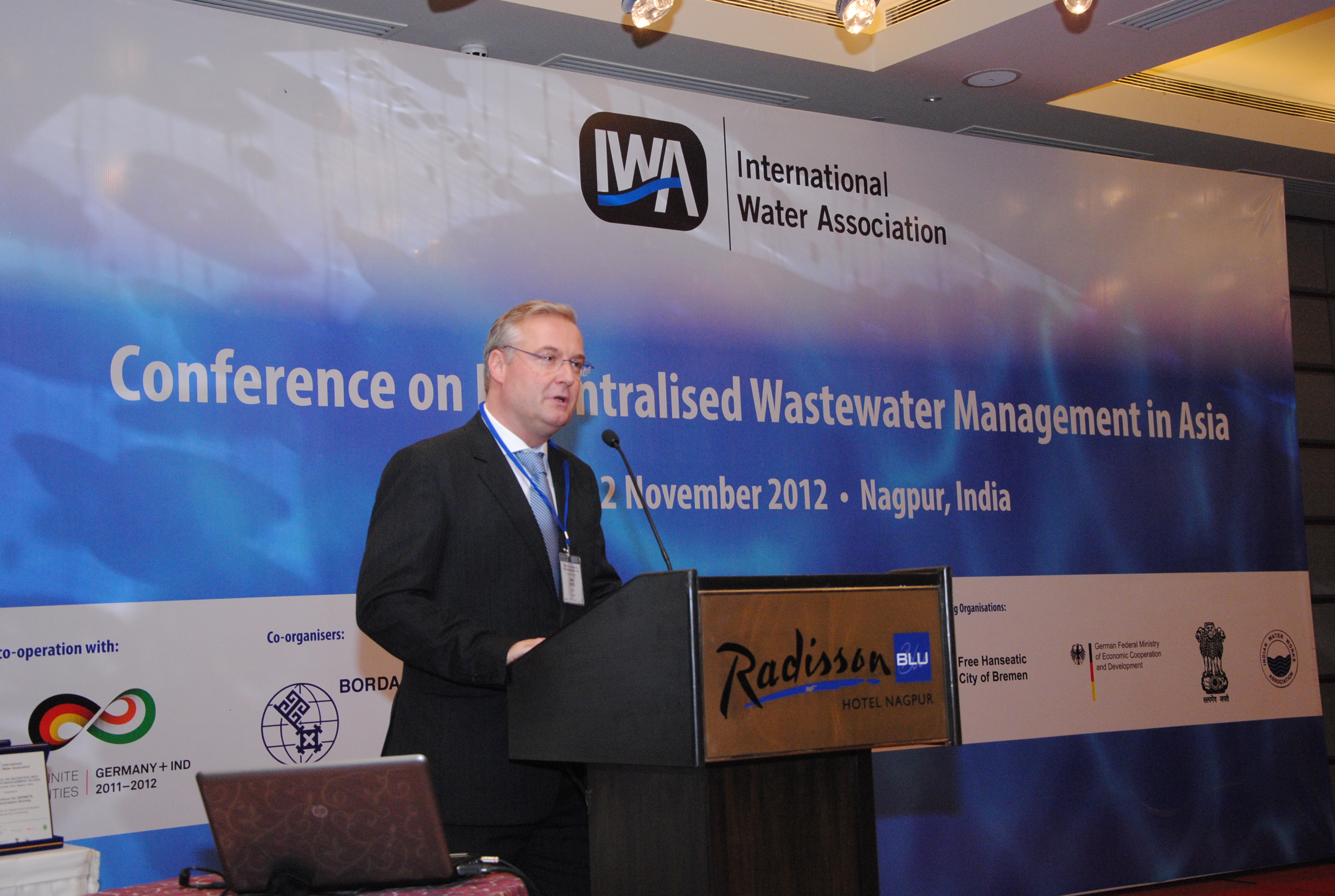 Nagpur Today Conference: Decentralized options suitable to the different communities and geographical conditions have to play a key role in providing sustainable sanitation to over 2.5 billion people who still do not have access to toilets said Mr. Stefan Reuter, Director, Bremen Overseas Research and Development Association, here today. Delivering the keynote address at the 3 day Conference on Decentralized Wastewater Management in Asia, he said that Centralized Systems of Sanitation has been the main approach for sanitation solutions hitherto. But a study of the current sanitation scenario in urban areas reveals that there are many gaps and despite heavy investment, several pockets of even highly developed cities pose serious challenges. Rapid urbanization, financial constraints, heavy operation and maintenance cost result in failures of the sanitation systems in these cities. Realizing these ever-growing problems, city-wide sanitation planning is now advocated. The de-centralized solutions could be adopted for newly developed and developing areas and they could supplement the centralized sanitation systems. Sustainable sanitation is very critical to save our water bodies and water sources which are getting highly polluted due to poor sanitation. New technological options also should be applied for the new sanitation strategy.
            Sanitation should not be approached in isolation, but should be included as an integral part of new approach and linked with water, food and energy opportunities springing from discovery of the resource in the human waste. Treated water, biogas energy and participatory approach involving the different stakeholders could play a greater role in finding a solution to the above mentioned problems to assure environmentally friendly urban areas. The government, the civil society, the technocrats and other stakeholders should take a greater responsibility in improving the sanitation situation. In the present situation, it may pose very complex challenges, but it should not deter as from using the best of the very good time tested models. The sooner we do it, the better for the planet. Already, youth have started blaming the present generation for unleashing several short-sighted policies and programs which is seriously affecting the environment.
Sustainable sanitation has to meet the challenges of ecology, equity and economy said Ms. Susmita Sinha, Director, CDD Society. The Government of India had come out recently with its urban sanitation policy focusing on providing sustainable sanitation for cities. Coverage delivery and development are the main issues of urban sanitation. Sewerage connection, collection and treatment under the centralized sanitation system should be supplemented by decentralized approaches. Appropriate technology at appropriate places is very necessary to fill up the gaps in urban sanitation. The Decentralized Wastewater Treatment System developed by BORDA has been successfully piloted in many Asian and African countries. The conference will come out with programs for replication and scaling of these models.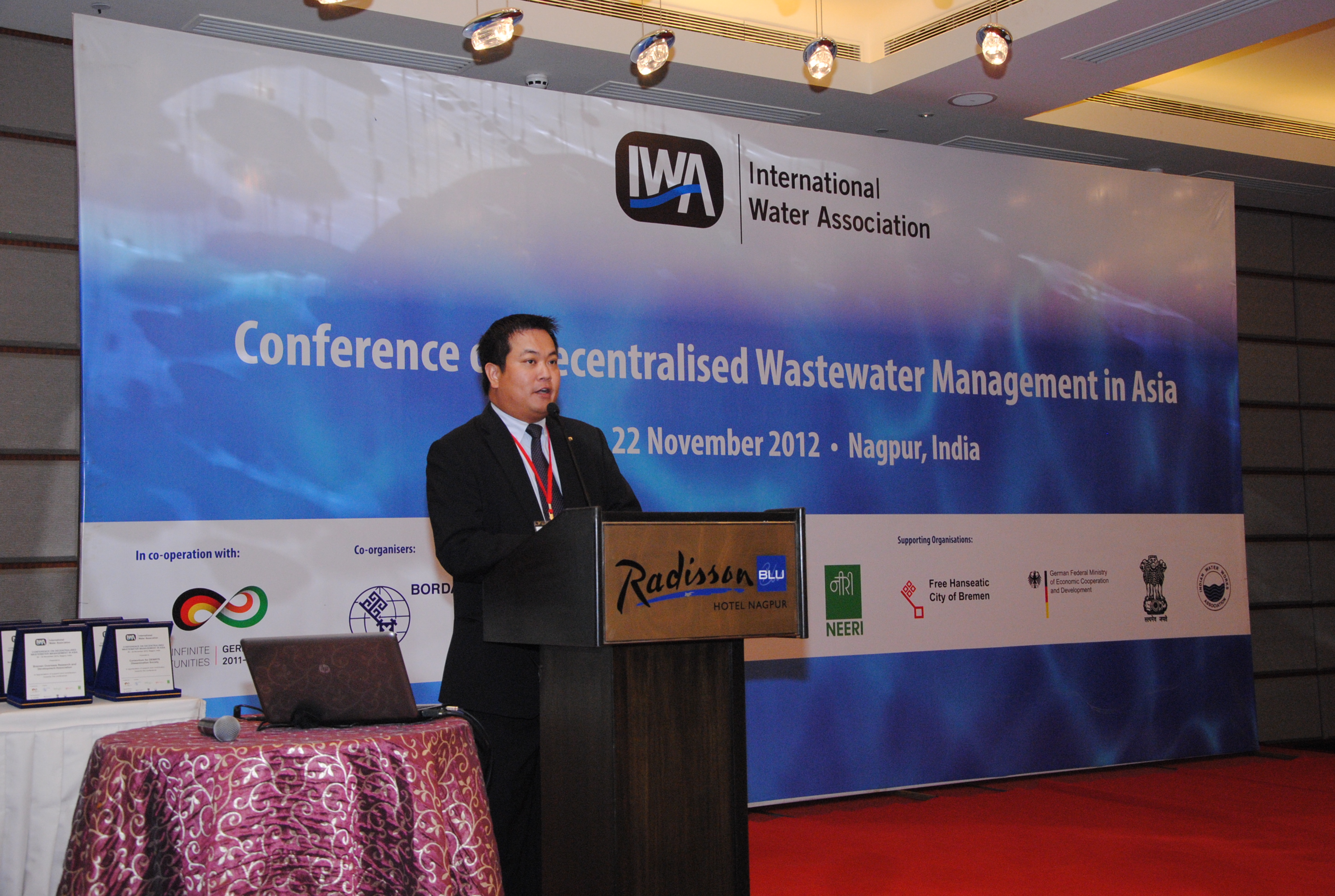 Mr. Ryan Yuen, Regional Director for Asian and the Pacific, International Water Association said that the 3 day program has been jointly organized by BORDA, International  Water Association, Consortium of DEWATS Dissemination Society, GIZ and NEERI. Over 200 delegates from many parts of Asia and India are attending the meet. A Pre-Conference Workshop on Implementation of City Sanitation Planning as per the guidelines of the National Urban Sanitation Policy was also held.
Dr. Satish Wate, Director- NEERI (National Environment and Engineering Institute) emphasized the urgent need for new technologies for solving the sanitation problem and ensuring safe and hygienic water supply to all. Mr. Komal Prasad, Secretary General Indian Water Works Association, highlighted the importance of good sanitation practices to ensure safe water for the rapidly growing population especially in Asian countries. Mr. Pedro Kraemer, Programme Coordinator, BORDA South Asia highlighted the importance of experiencing first hand, various decentralized treatment options for sewage generated from different sectors like an institution, poor communities. Seeing is believing, he said and requested all the conference delegates to visit the different sites on November 21,2012.
Ms. Maren Heuvels, BORDA South East Asia, Indonesia, explained the role of BORDA in the field of poverty alleviation and strengthening of social structures.
Technological Developments, Policy Standards and Regulations, Stakeholder Engagement, Design and Construction, Financing and Operation and Management were discussed during the meet.