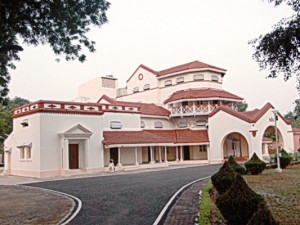 Nagpur News: Amidst the preparation for upcoming state assembly's winter session in Nagpur, speculations are running rife about who would reside in the deputy chief minister's bungalow Devgiri this time. This far, no one in the cabinet has been assigned the post since the resignation of Ajit Pawar. The post is not likely to be filled before the session, which would certainly take away the sheen that Devgiri reflected in the previous sessions.
As the legislative assembly's winter session approaches, city's political circles warm up with heated discussion about who's who of the cabinet. The leaders keep wondering as which VVIP would arrive and who chooses to stay back in Mumbai. InNagpur, Ramgiri remains chief minister's residence during the session while deputy chief minister stays in another bungalow Devgiri.
As a matter of fact, the deputy CM's post does not have the constitutional status, however, the post always remain at the focus of discussion in the recent times of coalition rule.
In the recent past, there has been a successful stint of the leaders on the post of deputy chief minister. Gopinath Munde served the post during the Shiv Sena-BJP regime, while Chhagan Bhujbal, Vijaysingh Mohite Patil, RR Patil and more recently Ajit Pawar exercised power at this post in Congress-NCP coalition government. The designation is now ranked at second to chief minister in the state cabinet.
The residences of both chief minister and deputy chief minister attract larger crowds during the winter session in the city. While the Congress leaders gather at Ramgiri, NCP workers throng Devgiri. With the second in command's post lying vacant this year, Devgiri would likely to remain isolated this session. Ajit Pawar has been staying at Devgiri for the last two winter sessions.
Currently, whispers are on air about who would reside at Devgiri this time. Going by the seniority, names of former deputy chief minister and public works minister Chhagan Bhujbal and home minister RR Patil appear in the lead. However, the Ministry of Finance and Energy, also ran by Ajit Pawar has now been accorded to Jayant Patil and Rajesh Tope, respectively. Considering this fact, Devgiri could be allotted to either of them, making it their first stay at Devgiri. However sources ruled out any such possibility.
Ravikant Kamble