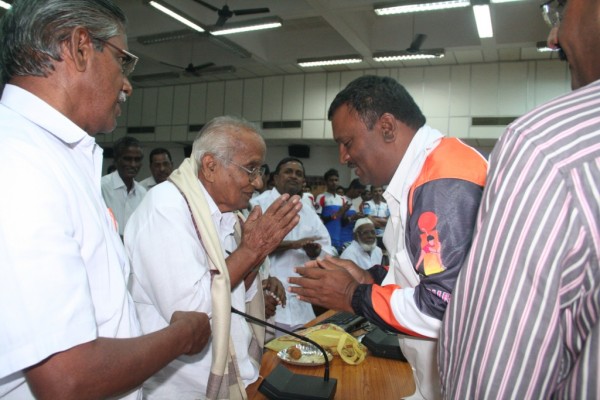 Nagpur News: On occasion of the 150th birth anniversary of Swami Vivekananda, NMC organized skating rally from Kanyakumari to Nagpur which started at 8:30 am on the second day of its journey. After a night stay in Madurai at Mata Amrutmai Math, the rally started at 8:00 am and proceeded on its 226 km journey to Salem after Darshan at the famous Minakshi temple. The rally was flagged  off the rally by  Shri govinrajan,state chief of the Vivekananda shard shatabdi committee and  standing committee chairman Dayashankar Tiwari, special dignitaries  Dr.  Shiva gugnathan, R Govindrajan, Shri Narayan Samy, Prof. Kathali, Mansingh Perumal, Muthu Murugan, Murugesen, Mr. Verrapandi, Mr. Ashokan, and Mr. Athishan were present. The rally began with slogans of "Vande Mataram", "Bharat Mata Ki Jai" and "Swami Vivekananda ki jai".
At Ayyamkottai village, on the rally's route to Salem, a large no of women, men and children took aarti and showered flowers on the skaters. In a short programme, T. Palani, Madurai district sanyojak of swami 150th Vivekananda shardh shatabdi committee and Dayashankar Tiwari addressed the peoples on Swami Vivekananda's learning and experience in his life.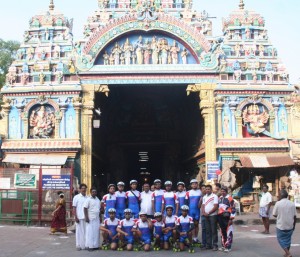 Further ahead on the express way at kashipalayam, owner of Pendian Textile Mr. Pattichatti, Mr. Uttipatti and Onthon Patti welcomed the rally and served lemon juice to the team.
On the request of rally organizer the collector of Namakkal D. Jag Nathan made arrangements to felicitate the freedom fighter of Namakkal district. Namakkal is a historical place, where well known nationalist Tamil poet Shri Ram lingam was born. President of Freedom Fighter Association Mr. P.Nallappan and 39 other freedom fighters were present at the Collectorate. Dayashankar Tiwari and the skaters felicitated all the 40 freedom fighters with shawls. After this, the rally proceeded to Salem.
The mosquito net manufacture association arranged the felicitation of the rally at Selwanpatti Circle in Salem. Garlands were presented to all the skaters, fireworks were burst and the local people took out a 3 km long procession which went through different parts of Salem city and reached the Jain Bhavan. The whole route was showered with flowers. The rally left for Bengaluru next morning.