The leaders of various political parties spit fire like dragons against the Spanco for its dubious activities of creating a hell of a situation for power consumers. But the fire-spitting dragons in Nagpur have turned the tobacco spitting leaders in Mumbai.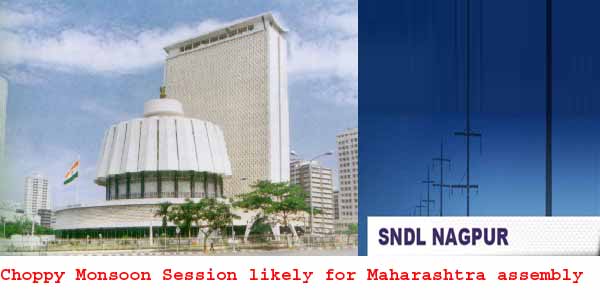 Nagpur News: The Maharashtra Assembly Speaker was forced to adjourn the House on the second day of Monsoon Session amidst uproar by BJP, Shiv Sena, MNS, Shekap, and RPI members who strongly demanded equal funds for their constituencies.
The Opposition members, led by Leader of Opposition Eknath Khadse, resorted to shouting and sloganeering, as soon as the House started its business, and demanded  immediate distribution of funds in all constituencies of Opposition MLAs. The Opposition MLAs went to the Well of the House and resorted to uproar over their demands. The chaotic situation forced the Speaker to adjourn the House first for one hour, then half an hour, then till 2 pm. However, when the Houswe assembled at 2 pm, the Opposition MLAS again resorted to slogan shouting with more vigour and vociferously demanded equal distribution funds for their segments. The Speaker then adjourned the House for the entire day. The second of the Monsoon Session could not transact any business following the chaos by Opposition MLAs.
However, the Nagpur citizens were not at all impressed by the Opposition's "show of strength." The citizens were expecting deafening roars by Nagpur "Tigers" over the issue of Spanco. The cruel, draconian Spanco has put the poor and innocent power consumers on the one-edged sword. They can't move and have found themselves helpless over the Spanco's dictatorial acts of harassing  by various diabolical ways and means. Their only hope of escaping the torturous actions of Spanco was the Nagpur leaders of various political parties who had promised to tame the Demon Spanco, and, provide the much needed relief to the power consumers.
The First Day of Assembly Session saw the Nagpur "power centers" singing the most inspirational National Song Vande Mataram. But the Nagpur leaders, it appears, were not inspired by the National Song and were found laughing and chatting with each other instead of raising the all important Spanco.
The Second Day saw "Elephantine Strength" but for another cause. The Nagpur citizens can understand that political situations change rapidly. But no so fast. The "Tigers" in Nagpur who roared the Spanco would be torn apart by their powerful claws have turned, it appears, leave alone toothless and clawless tigers, the kittens in Mumbai.
Make no mistake. Nagpur citizens have been known to have crocodilian patience (A Crocodile waits and waits for a prey for months together). However, once the prey comes in the striking distance the same crocodile completely wipes out the prey in a very savage manner. Of course, the Nagpur citizens would turn crocodiles and wait and wait for Lok Sabha and Assembly elections to wipe out the "Tigers" without warning and without mercy.
For now, let us wait for the Third Day.