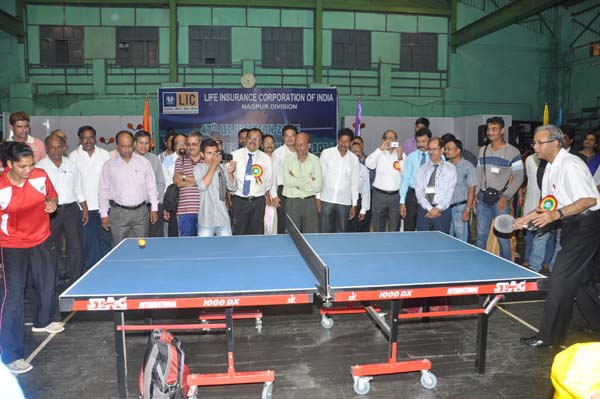 Nagpur News: The 47th LIC Western Zone Table Tennis Tournament 2013-2014 being hosted by LIC Nagpur Division got off to a great start today at Subhedar Hall, Nagpur.
The tournament was formally inaugurated by Dr.Gopal Dhawan – Chairman-cum-Managing Director of Mineral Exploration Corporation Limited (MECL). In his inaugural address he delved into the history of the game right from the British era to the present day game called table tennis. He wished the players all success and have a great tournament.
R.Chander sr.Divisional Manager LIC Nagpur Division welcomed the chief guest with a floral bouquet and thanked him for accepting the invitation to inaugurate the tournament. Also seated on the dais were Rajesh Middha, Regional Manager HRD, Ajit Sawant, LIC Sports Promotion Board Member, K.S.Johar, Manager (P&IR), Nagpur Division and Sanjay Vyas, Organizing Secretary.
R.Debgupta & M.K.Panda marketing managers of Nagpur division, Gajanan Bhosale Zonal Observer were also present. The chief referee for the tournament is Deepak Kanetkar from WCL.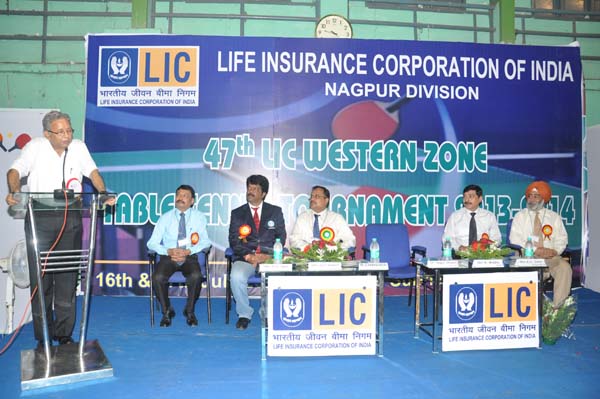 The program started by lighting of traditional lamp by the dignitaries followed by Nigam Geet & Welcome song presented by LIC employees. On the occasion a brochure was also released at the hands of chief guest. The tournament was inaugurated symbolically by the chief guest by serving the ball against Ms.Prajakta Tipale, last years LIC All India Womens Singles winner. The proceedings of the program were conducted by Mrs.Anju Dewase and Mrs. Mamata Sawane proposed the vote of thanks.
SEMI FINALS LINE-UP DRAWN: All the seeded players in both mens and womens section sailed smoothly into the semi final round. In the round robin league format matches played throughout the day, in eight groups in each category, the following players emerged as winners from respective groups to qualify for quarter finals.
WOMENS : Prajakta Tipale (Thane) bt Shubhada Rarvekar (Nashik) 11-3, 11-1, 11-3, 11-5
Mrunmaye Mhatre (Mumbai) bt Amita Fattarpekar (Mumbai) 11-9, 11-7, 11-6, 11-3
Shruti Talnikar (Thane) bt Megha Paranjpe (Pune) 11-7, 11-3, 11-8, 11-5
Sushma Mogre (Thane) bt Shilpa Muley (Kolhapur) 11-0, 11-9, 11-4, 11-5
MENS : Ravi Joshi (Bhavnagar) bt Manoj Makhwana (Surat) 11-1, 11-7, 11-3, 11-7
Balasaheb Boje (Surat) bt Amol Jade (Mumbai) 11-5, 11-6, 11-6, 8-11, 11-9
Chandrashekhar Gosavi (Mumbai) bt Hitendra Narvekar (Mumbai) 11-8, 11-3, 11-5, 11-7
Vipul Unadkat (Rajkot) bt Rajendra Sawant (Pune) 11-8, 10-12, 11-7, 11-13, 11-9, 11-6