Nagpur News: The Nagpur Municipal Corporation's (NMC) Campaign "My City Clean City Beautiful City" entered Day -4 on Saturday and covered Ganeshpeth ST Bus Stand, Small Factory Area, Om Mangal Karyalaya and open grounds in front of Krishi Utpanna Bazaar Samiti (Agriculture Produce Market Committee: APMC). All the covered areas were cleaned in the presence of Mayor Anil Sole. Speaking on the occasion, the Mayor said, "Every citizen wishes clean and beautiful Nagpur. But it is not only the responsibility of NMC. Participation of all the citizens, various organizations is necessary to keep the clean and beautiful. And it is possible if every section of society takes the responsibility in this direction," the Mayor asserted.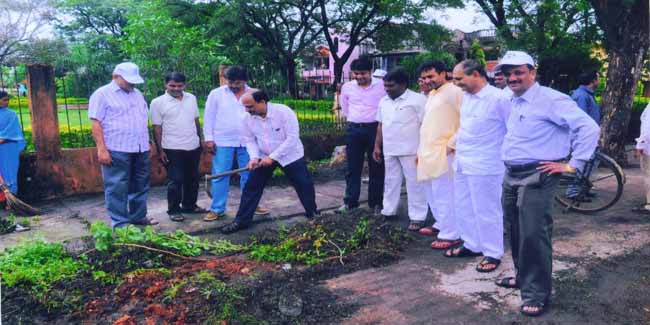 The NMC's Health Committee Chairman Ramesh Shingare, former Corporators Manoj Sable, Rajiv Golhar, NMC's Health Deputy Director Dr Milind Ganvir, Assistant Commissioner Mahesh Morone, Zonal Health Officer Sanjay Gore, Health Inspector R D Gaidhane, and Kanak Resources Management Project Director Kamalesh Sharma were present on the occasion.
Earlier, on Day-3, all the gardens in Nagpur were covered by the campaign "My City Clean City Beautiful City". A total 50 tonnes of garbage on Friday and 75 tonnes of garbage on Saturday was lifted by the Kanak Resources Management.
MAYOR TOUCHES GARBAGE:
During the campaign in Ashi Nagar Zone, the Mayor Anil Sole took a spade and cleaned the garbage in the NMC Garden in Laghu Wetan Colony on Kamptee Road. The Mayor's lifting of garbage inspired the residents of the area and they too started cleaning the area and handed over a large quantity of waste material and garbage to NMC employees. The Mayor appreciated the efforts put in by all sections of people in the campaign and said the cleanliness drive is marching towards success. But a lot of efforts need to completely clean the city, Mayor said.
Another Garden in the Zone, NIT's Sanyal Nagar Garden was cleaned in a big way by students, Mahila Bachat Gat, Anganwadi Sevikas, and citizens. The Mayor said, "Citizens should keep in mind 'Our Garden, Our Grounds, Our Homes, Our Offices, Our Premises, Our Establishments, Our Hospitals, Our Areas, Our Schools, Our Railway Station, Our Lakes and the like' while cleaning them," Mayor appealed.