Dawood is not in Pak hence no question of handing over him to anybody: Abdul Basit

Dialogue between India, Pak is only way to ensure peace, stability: Pakistan High Commissioner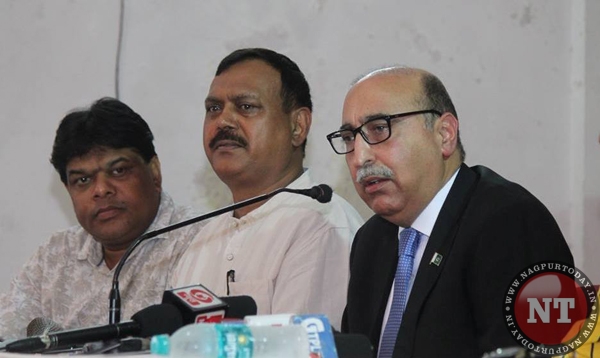 Nagpur: "Talk, talk and only the talk between India and Pakistan is the only way to ensure peace and stability in the region. Unless the meaningful and uninterrupted dialogue is held, nothing is going to work. Usually, focus is on terrorism and Kashmir. But there are other issues, too, that deserve discussions. Unfortunately, both the nations begin the dialogue by assessing the resolution of problems at their levels. But when we talk without worrying the outcome, then only there would be resolution of the burning problems," Pakistan's High Commissioner to India Abdul Basit asserted while interacting with the media persons at Patrakar Bhavan here on Saturday.
To a question on handing over of India's most wanted terrorist Dawood Ibrahim, Basit first evaded the reply but later said that when Dawood is not in Pakistan then where is the question of handing over him to anybody.
Abdul Basit in on a three-day visit to city and participated in various programmes. Talking on the hot and cold relations between India and Pakistan, Basit said, "Even though the relations between the two countries are not on the good terms, the citizens have neither any grudge nor differences against each other. People on both sides of the border adore and love each other. At the same time, there are certain elements in both the countries who spread disharmony and hatred through their nasty statements. But the effect of such statements is minimal," the Pakistan High Commissioner said.
Asit Basit further said that External Affairs Minister Sushma Swaraj and Prime Minister Narendra Modi had visited Pakistan. With the visits, the dialogue process had got off to a start. But the Pathankot attack derailed the process, he said.