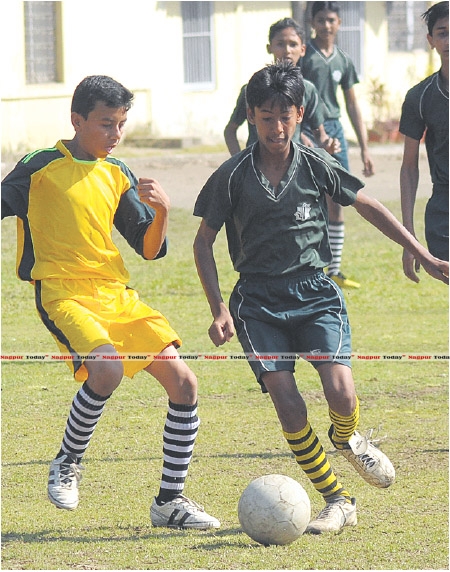 Nagpur News : It was another day full of goals in the Jawaharlal Darda Memorial Inter-School Football Tournament organised by NDFA, on Saturday. CDS stamped their authority over CPS Wardhaman Nagar, beating them 4-1. While St.Joseph and St.Xavier Hingna also recorded comfortable victories, Montfort resisted their opponents to claim victory in a close match. Gurunanak HS were awarded a win in the form of a walkover,.
A one-sided encounter on Police Line Takli ground between CDS and CPS Wardhaman Nagar witnessed five goals, four of them being scored by the CDS boys. Jasbir Grewal opened the scoring with a third minute goal and followed it up with his second in the 15th minute. Instantly, a goal by Ausaf Ahmed on the other end brought joy the CPS camp. But the delight was short-lived as two blows, one apiece by Samarpreet and Shahbaz Ansari, fended away any sort of comeback from the trailing team.
Earlier in the day, St Joseph HS Fetri scored goals at regular intervals in their match against Qidwai to ensure an easy 3-0 victory. One goal each was netted by Mehshar Jamal, Rehan Qureshi and Muzammil. A robust defensive display enabled them to keep a clean sheet too.
In another match, St.Xavier's Hingna got the better of St Michael's HS by two goals through Ishan Panekar and Deep Babariya, while St Michaels went goalless for the entire length of the match.
The last but the closest match of the day was played between Montfort and MAK Azad HS.
After a struggle in the initial minutes, the first goal arrived in the 40th minute through Montfort's Shreyas Thakre. Zahid Akhtar quickly equalised for the MAK Azad team after six minutes. But a late strike from Siddhesh sealed the game in Montfort's favour as they emerged victorious by 2-1.
No matches will be played on Sunday. Budding players vie for the ball during Jawaharlal Darda Memorial Inter-School Football Tournament on Saturday.