Darda-NDFA College Division contest begins, Hislop beats Yashwantrao Patil 8-1 in opener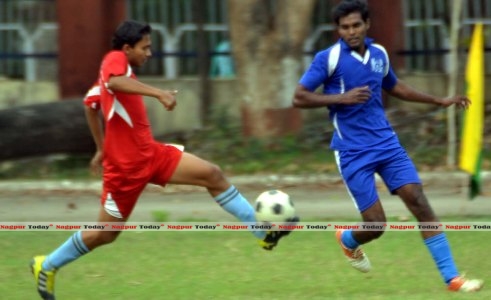 Nagpur News.
The Darda-NDFA (Nagpur District Football Association) College Division Tournament-2013-14 was inaugurated at 3 pm on March 8 at Police Line Takli Ground. All the matches will be played at the same ground. A total of 14 teams have confirmed their participation in the prestigious tournament and have been divided in three groups.
The inaugural match was played between Hislop College and Yashwantrao Gurudeo Patil College.
Hislop College made a mockery of Yashwantrao Gurudeo Patil College when the team scored 8 effortless goals against their rivals who could score a solitary goal. The match was dominated by the Hislop boys Amol Yadav, who crashed the ball into rival's goalpost on 7th,62nd & 89th minute, Vaibhav Shirley 25th & 80th minute, Sameer Shakoor 44th minute, Pratik Patle 63rd & 86th min). The lone goal for Yashwantrao Gurudeo Patil College was hit by Swapnil Bokere on 77th minute.
Yellow card : Hislop ( Rakesh Tiwari 66th min)
Tomorrow matches
1.00 pm: Dharampeth Science College v/s DNC
3.00 pm: SK Porwal v/s GH Raisoni
The three groups and the teams are as follows:
"A"
1. Hislop College
2. Yashwantrao Gurudeo Patil College
3. Tirpude College
4. Madhavrao Wankhede SS
"B"
1. PWS
2. DNC
3. Ambedkar College
4. Dharampeth Science College
5. Priyadarshini College
"C"
1. S K Porwal College
2. GH Raisoni College
3. SFS College
4. Jyotiba College of P E
5. Yashwantrao Chavan College of Engineering
A press release issued by Eugyn Norbert, General Secretary of NDFA said.