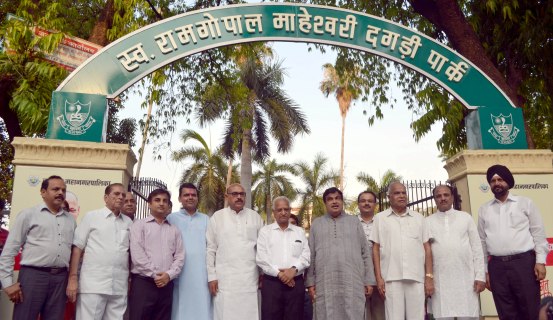 Nagpur News:
Nagpur Municipal Corporation (NMC) organized a programme to rename the famous Dagdi park after late Ramgopal Maheshwari. After unveiling the corner stone, former BJP National President Nitin Gadkari informed that this was the birth centenary year of late Ramgopal Maheshwari. He further said that Ramgopal Maheshwari, who was known as Bhishma Pitamah of journalism, was sensitive and alert about his responsibilities towards society. "Journalism is incomplete without Ramgopal Maheshwari," added Gadkari. With his contribution in the development of Central India, his name is unforgettable in the history of Central India.
Nitin Gadkari further added that Ramgopal Maheshwari was an inspiration to understand the problems of society. He urged NMC to keep his big portrait in the park with some text about his life and contribution to society.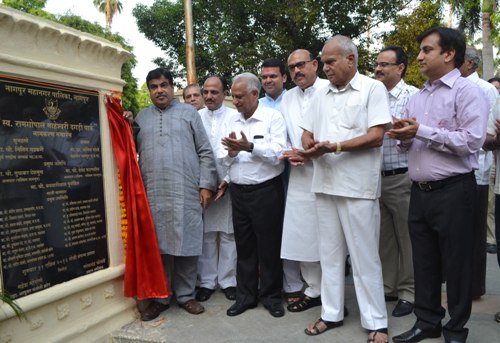 Former MP Banwarilal Purohit was the chief guest on the occasion while Mayor Anil Sole presided over. Present prominently on the occasion were MLAs Sudhakar Deshmukh and Devendra Fadnavis, Vinod Maheshwari, Girish Gandhi, NCP City chief Ajay Patil, Deputy Mayor Sandip Jadhav, CP K K Pathak, and Dr Safalta Ambatkar were the guests of honour.
Mayor Anil Sole informed the mediapersons that NMC will constitute a 'Senior Editor Award' in his name from next year.
Vinod Maheshwari, son of Ramgopal Maheshwari and Managing Editor of Nav Bharat made the introductory remarks. He shared events in the life of Ramgopal Maheshwari.
Praful Maheshwari, Nimesh Maheshwari, Sameer Maheshwari, Mahesh Morone, Nareshchandra Shrikhande, and Dhanraj Gawande welcomed the guests. Corporator Sandeep Joshi conducted the proceedings and also proposed a vote of thanks.