Minor victim out of danger
Dacoits flee with CCTV footages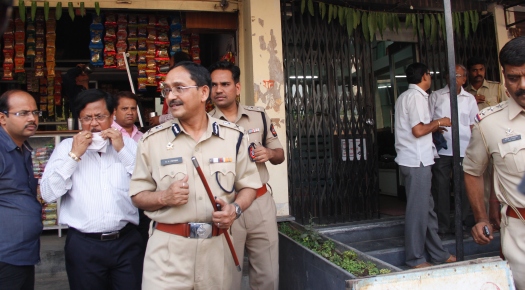 Nagpur News: Dacoits fired round on a 14-year-old boy after he tried to flee when they barged into a jewellers shop at Hiwari Nagar on Thursday afternoon. The minor, Aniket Kadu, is stated to be out of danger and is recuperating at a nearby private hospital.
Police told that the bullet has slightly rubbed through Kadu's forehead and he escaped minutely from the jaws of death.
Around 3 pm, six masked dacoits came on three bikes at Shri Mahalaxmi jewellers near Gita Bhavan in Hiwari Nagar under the jurisdiction of Nandanwan police station. Shop owner, Yuvraj Gumgaonkar and his son Surendra were at the counter while the minor was seating near the door.
Surendra told that around three youths entered the shop while fourth one was standing at the door to keep a watch. Other two were waiting on the bike kept on road.
"As soon as they entered, one of them threatened at knife point and other two were holding desi katta. We were asked to freeze on our seats and they started taking out the gold plated valuables kept for display," told Surendra.
He informed that before they could collect more valuables, a frightened Aniket tried to run from the shop. While he was running to neighbouring shop, the dacoit, who was standing out fired a round on him but luckily, the round slightly touched the forehead.
Aniket collapsed and the fired sound alerted other residents. Fearing public wrath, the dacoits hurriedly took only the gold plated valuables with them. Gumgaonkar estimated the loss of Rs 30,000.
He was thankful that the dacoits couldn't open the cash drawer and didn't get any time to collect other silver and gold ornaments.  However, before fleeing, the dacoits took the CCTV's footage machines with them.  Hiwari Nagar resident Gumgaonkar, who owned shop from past ten years, had install two CCTVS- one at the entrance and other inside- over security.
Within minutes, nearby people gathered and Nandanwan police were alerted. Senior officials and crime branch police investigated the spot. It was learnt that the cops had got clue of registration number of two black coloured pulsor bikes used by the dacoits in the robbery.
Gumgaonkar told that a week before, he had received a call from an unidentified person who was demanding an extortion. However, he ignored them and even avoid filing police complaint.