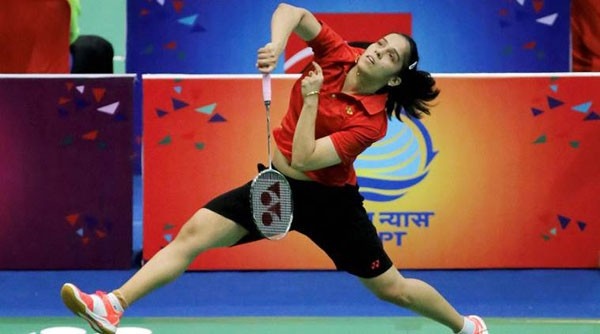 Saina Nehwal beat Pusarla Sindhu 21-18, 23-21 to win the women's singles badminton gold at the Commonwealth Games on Sunday.
In an engrossing final between two champions, it was senior who drew on all her experience to emerge triumphant and take her second gold medal of the ongoing games, having won the mixed team event earlier.
Saina, who won gold at the 2010 Games, won the first game comfortably. She repeatedly tossed deep and caught the Rio Olympics silver medallist on the wrong foot with delectable drops as she established comfortable leads of 9-4, 12-7 before getting to game point at 20-16.
Sindhu saved two points, the first with a crisp down-the-line shot, but was left watching as her senior compatriot took the game 21-18.
In the second, it was Sindhu who started well, taking a two-point lead. Though Saina drew abreast at went ahead 4-3, Sindhu dictated terms in long rallies and going for the kill to finish them off. She led 14-11 and 18-16, but Saina was not ready to give in. She pulled pack with some superb work at the net and down the line smashes to cut the lead to 18-19 and drew level at 19 when Sindhu hit wide.
After a long rally Sindhu got to game point and then hit long as the scores were level 20-all.
When Sindhu hit long again Saina got to game and match- point.
Sindhu did manage to level 21, but Saina got to her second match-point with a deep smash. Another crisp smash gave her the gold medal.
Sathiyan Gnanasekaran and Manika Batra won the mixed doubles bronze medal at the Commonwealth Games, defeating Sharath Achanta and Das Mouma on Sunday.
The Gnanasekaran-Batra combination proved too strong in the all-India contest winning 11-6, 11-2, 11-4.