Arrest of one accused in Mumbai led cops to zero in on other accused
Nagpur: Nagpur: Crime Branch of city police, it seems, kept its word of cracking the sensational Bobby Sardar murder case within 48 hours.
Cops have succeeded in arresting four accused named Little Sardar, Honey Chandok, Situ Gaur and Babu Khokhar. The fifth accused – Manjeet Wade – is at large and is being hunted.
Addressing a press conference on Saturday, the Joint Commissioner of Police Ravindra Kadam said that the Crime Branch sleuths got a breakthrough in the murder case when they nabbed one of the accused in Mumbai. A team of cops had gone to Mumbai by a flight after receiving inputs on whereabouts of the accused. The arrest of this accused led the cops to zero in on other accused and crack the case after painstaking investigations.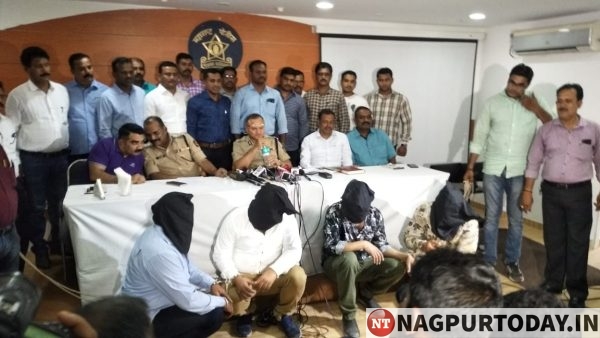 The press conference was also attended by Additional Commissioner of Police B G Gaykar, DCP (Crime) Nilesh Bharne, ACP Sudhir Nandanwar, Police Inspector Narendra Hiwre, and API Pramod Ghonge.
According to police, the accused Little Sardar is the mastermind and eliminated transporter Bhupendra Singh Manjit Singh Makan alias Bobby Sardar in a well planned operation. The motive behind the murder could be old enmity and disputes over a number of contentious issues including property, cricket betting disputes, money laundering, and extra-marital affairs.
It is learnt that the deceased Bobby Sardar had tried to kill Little Sardar by shooting him down. The deceased also used to defame the accused over one issue or another. Such dubious acts of Bobby Sardar had left the accused Little Sardar enraged. The fact that the deceased was planning supari killing of the accused added fuel to the already fuming Little Sardar.
On April 26, the accused Little Sardar along with other accused Honey Chandok, Situ Gaur, Babu Khokhar and Manjeet Wade carried out their plan and eliminated Bobby Sardar in cold blood. They first kidnapped him, detained him for whole night at a farm house near Kondhali and later strangled him to death the next day. Body of Bobby Sardar was dumped near a bridge under the jurisdiction of Kondhali police.
Initially, the arrested accused tried to mislead cops by telling all sorts of lies but later spilled the beans following intense interrogation.
Earlier, cops had seized the Innova car which was used in kidnapping and murder of Bobby Sardar. Following the interrogation of the car owner, it had come to fore that the owner had provided the vehicle used in committing this heinous crime to a person who has not reportedly been to his house for past three days and his phone was also switched off.
Bobby's body was found on Sunday morning under jurisdiction of Kondhali police station. As it was suspected that crime started from city precincts, a case of murder was registered here on the basis of complaint given by his wife Parminder (49).
Cops started probe after scanning the CCTVs in various areas where Bobby had visited before getting kidnapped. During the scanning of footages, cops observed Bobby talking to an unknown person whose image was not clear. Bobby had left his office on Thursday night and disappeared since then. The family members approached Jaripatka Police and lodged a missing complaint. An Innova car of Bobby was recovered from Mangalwari Bazaar area on Saturday. On Sunday morning, a passer-by noticed his body lying near a bridge under the jurisdiction of Kondhali police. The spot is about five kilometres away from the Nagpur-Amravati Highway, who later alerted the police. Staff of Kondhali Police Station rushed to the spot. As the police did not find anything at the spot to ascertain identity of the deceased, they sent pictures of the body to the city police which identified him as Bobby Sardar.
Team has been rewarded with 75000 Rupees and the accused have been granted 7 days PCR.