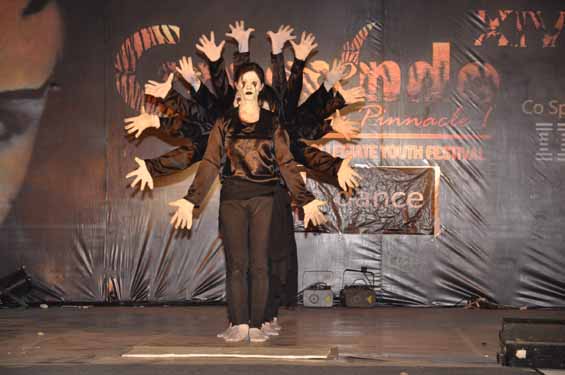 Nagpur News:  Crescendo Stripe – Up 2012, the mega intercollegiate youth festival of Tirpude Institute Of Management Education, one of the leading management college of Nagpur.
This mega event consists of Cultural events as well as Sports activities. Every year, this mega event is conducted  by  Yugantar  Education Society of Nagpur. Many colleges who wait for the Crescendo, they participate in the activities. More than 150 colleges have participated in this event. Various events are conducted like Dance, Rock Band, Singing, Blind Date, Mime e Movie, Fashion Show, War of DJs and many more. In sports, there are Mixed Cricket, Volleyball, Football, Tug Of War, Kabaddi and many more.
Huge number of students participated in the cultural events like Dance, Fashion Shows, Blind Date, Singing and many more.In Dance competition,  there were judges who are excellent in their fields like Mr. Manish Patil(Dancer), Mr. Gourav Bhusari(Owner of Architect & Interior Design Studio).In Singing competition, there were also judges to judge the contestents and the famous Gazal singer of Nagpur named Mr.Datta Harkare, Mr.Prashant Koparkar(Owner of Kashish Publicity & event management), Mr.Pankaj Tokalwar(Owner of Universal Infrastructure company), were present as judges in this mega event.
This mega youth event is of four days and the footfall is around 12000 in just 2days. Various Cultural activities have taken place on 25th and 26th Oct,2012. These are as follows: Solo Dance, Group Dance, Couple Dance, Fashion shows, Blind Date, Add-making Competition, Singing(solo and duet). In these activities, elimination  rounds took place on 25th and 26th Oct,2012.
Finals Will be on 28th Oct,2012 and prize distribution will also be held on 28th Oct,2012.