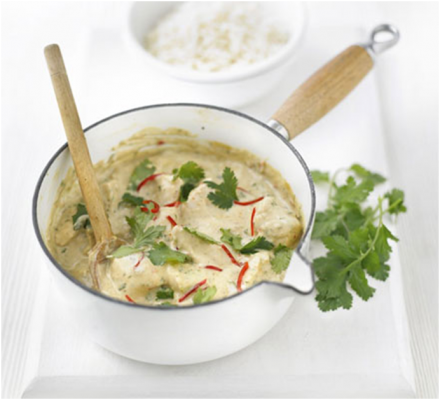 These recipes are packed with slow-releasing energy which keeps you fuller for longer, helps manage weight and stabilize energy levels.
They've been selected based on their use of ingredients which are considered low, or low to medium GI as noted on the GI index (low being less than 55 – medium less than 70). The recipes are also a good source of fibre and protein, have not been overly refined or processed and make use of cooking methods which do not increase the overall GI value of the dish.
Swap high GI accompaniments like white bread, rice and pasta, baked or mashed potatoes for wholegrain versions like granary or seeded bread, brown rice, wholemeal pasta or sweet potatoes. Use wholemeal flour instead of white, where possible.
Fast and flavorsome, this creamy chicken curry is ready in under 20 minutes
Difficulty and servings
Serves 4
Preparation and cooking times
Prep 6 mins
Cook 12 mins
Finely slice a quarter of the chilli, then put the rest in a food processor with the ginger, garlic, coriander stalks and one-third of the leaves. Whizz to a rough paste with a splash of water if needed.
Heat the oil in a frying pan, then quickly brown the chicken chunks for 1 min. Stir in the paste for another min, then add the peanut butter, stock and yogurt. When the sauce is gently bubbling, cook for 10 mins until the chicken is just cooked through and sauce thickened. Stir in most of the remaining coriander, then scatter the rest on top with the chilli, if using. Eat with rice or mashed sweet potato.
Use up peanut butter – Banana breakfast smoothie
Blend 2 bananas with 400ml milk, 4 tbsp oats, 2 tsp clear honey and 1 tbsp peanut butter. Serves 2.
Use up peanut butter – Prawn & noodle salad
Whisk together 2 tsp peanut butter, 2 tsp sweet chilli sauce and 2 tsp lime juice, then heat through in a frying pan with 150g straight-to-wok rice noodles, a handful cooked prawns, a handful beansprouts and a handful coriander leaves. Serves 1.
Use up peanut butter – Satay pork skewers
Thread 500g pork strips onto 8 skewers, then brush with a little oil. Mix 3 tbsp peanut butter with 150ml tub natural yogurt, a squeeze of lime juice and a finely diced red chilli. Grill or griddle the skewers for 2-3 mins, turning, until cooked through. Serve with the satay dipping sauce, rice and a salad. Serves 4.
358 k calories, protein 43g, carbohydrate 4g, fat 18.9 g, saturated fat 6g, fiber 1g, sugar 3g, salt 0.66 g
I M hungry Now… hope you all are feeling the same.
By Marcelo Azavedo