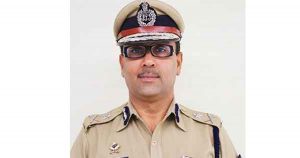 Nagpur: Commissioner of Police Amitesh Kumar has detained dreaded goon Sheikh Samir Sheikh Sarvar alias Raju Bhagwan Yerurkar (37) under the Maharashtra Prevention of Dangerous Activities (MPDA) of Slumlords, Bootleggers, Drug Offenders, Dangerous Persons, Video Pirates, Sand Smugglers and Persons Engaged in Black Marketing of Essential Commodities Act the other day.
A native of Ward No 4, Cement Road, Chandrapur, Sheikh Samir was staying at Mahalaxmi Apartment, near Modern School, Vidya Nagar, Koradi. Involved in several crimes of serious nature including riots, murder, attempt-to-murder, criminal conspiracy, outraging modesty of women, kidnapping for extortion, and illegally taking possesion of property. Offences against Sheikh Samir were registered at Koradi, Sitabuldli and Ghugus (district Chandrapur) Police Stations.
Cops had initiated preventive action against him in 2018 but he continued indulging in criminal activities. Finally, a proposal was prepared by Senior PI (Koradi) Rajesh Pukle under the supervision of Additional CP (North Region) Naveenchandra Reddy, DCP (Zone-V ) Neelotpal, DCP (Detection) Gajanan Rajmane to book Sheikh Samir under MPDA.
Finally, City Police Chief Amitesh Kumar issued orders detaining him under MPDA. Sheikh Samir would now be kept in Aurangabad Jail.