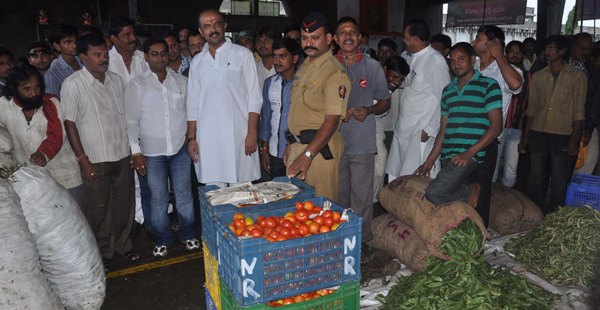 Nagpur News:
The biggest vegetable market in Nagpur, the Cotton Market, has now been shifted to Kalamna Market. And the new vegetable market has started getting hustled and bustled as was the picture of the Cotton Market. Now, the Cotton Market, the name in every citizen's mouth, has gone into history.
The demand to shift the vegetable market to to Kalamna was being raised since years. However, now, with the efforts Nagpur Krishi Utpanna Bazaar Samiti and the traders, the demand has taken a real shape. The market started functioning in the premises of Kalamna Krishi Utpanna Bazaar Samiti at exactly 3 am of Saturday (August 24) when the Saoner MLA Sunil Kedar performed Pooja of a scale and broke open a coconut, the centuries old tradition of the nation for an auspicious occasion. .
The occasion was graced by the Chairman of Nagpur Krishi Utpanna Bazaar Samiti Ahmedbhai Sheikh, Shankarrao Nandurkar, Atul Senad, Kishore Palandurkar, Promod Uplamwar, Rajesh Chhabrani and the office-bearers and Directors of the Samiti. On the first day itself, 250 trucks and other small transport vehicles reached the new market laden with tomatoes, brinjals, chilies, cauli flowers, Shimla Mirch (Capsicum) and other vegetables.
The Chairman of Nagpur Krishi Utpanna Bazaar Samiti Ahmedbhai Sheikh said, "The response on the first day was good. The traders and the citizens would not face muddy and filthy conditions in the Kalamna Market. The vehicles directly enter the yards. This facilitates the farmers as they would not have to pay for labour charges. The Kalamna Market consists of 200 shops and the priority was given to those traders who possessed licenses. A proposal has been passed to construct a separate building at the cost Rs 24 crore," the Chairman said.
SHIFTING A CONSPIRACY:
The Secretary of the Mahatma Fuley Vegetable, Fruit Brokers' Association Ram Mahajan has termed the shifting of the vegetable market from Cotton Market to Kalamna Market a well-planned conspiracy. "Instead of shifting the vegetable market, the Cotton Market should have been developed with all facilities.
HARAS (WOMEN LABOURERS) HAPPY:
The woman labourer Lalita Shahu said she is very happy. Cotton Market was full of problems. Kalamna market is clean and the labour charges are also better. She is getting Rs 5 for a crate that too without any extra workload. Rohini Shahu said, Kalamna Market is very good with no problems at all. She did not have to run from one corner to another for earning money. She enjoys work as the Kalamna Market is clean compared to the Cotton Market where the premises are muddy and filthy.