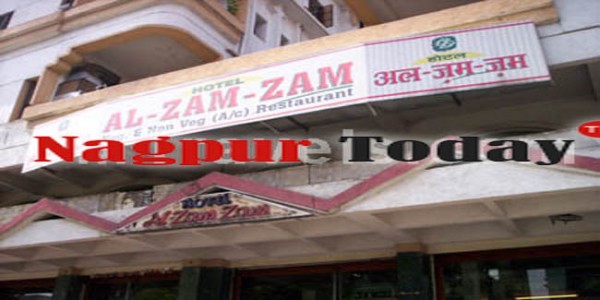 Nagpur News: Irked over being stopped from taking liquor in Al Zam Zam restaurant, a drunken youth, reportedly son of a head constable posted at police head quarter in Nagpur, smashed the glass table, thrown the television and hit the staff of the restaurant on Sunday. The restaurant staff tried to counter the berserk youth who fell down and broke his nose.
The youth also allegedly threatened the staff with dire consequences saying that he is the policeman's son and nobody can stop him.
Restaurant sources informed that Swapnil Kanojiya, 22, reached the restaurant located on CA road in Nagpur in an inebriated condition along with his other family members including his mother, sister and brother in law to celebrate the birthday of his brother in law. He was heavily drunk when he entered the restaurant.
After comforting himself on the table Swapnil along with his other male members took out the liquor bottle. When they were about to consume, a restaurant staff politely informed him that liquor is not allowed inside the restaurant. Enraged over the objection, Swapnil angrily hit the waiter with the water jug. He started abusing the restaurant owner and broke the glass top. On stepping down he also hit the TV set in the restaurant, sources added.
The staff then thrashed Swapnil who fell down with the bleeding nose. Later police took him to Mayo hospital for medical examination. Meanwhile, the matter was taken up at Lakadganj police who have been allegedly trying to mount pressure on restaurant owner. Sources said the police deliberately cornered the restaurant staff and eventually inclined towards registering counter case against them.
It is learnt the Swapnil is the habitual drinker who had earlier created similar scenes and mostly let off after his father head constable Shyam Kanojiya readily came to save him.
Swapnil reportedly played hoodlum at many occasion and cases were brought up at Sakkardara, Nandanvan and Ajni police stations.
Sources indicate that the fresh case could also be dampened owing to the pressure from his father.