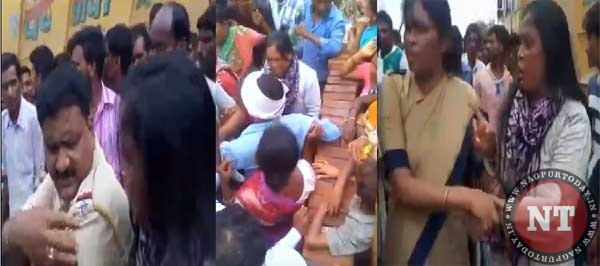 Nagpur : In a very worrying trend, a mob of 400 people attacked a poor woman suspecting her to be a child-lifter. The incident happened at Karambhad village in Nagpur district on Thursday.
In what should raise a serious concern over humanity, mobs of people in different parts of the State are falling prey to social media rumors that a gang of child-lifters has become active in the area. Without verifying the facts, people are starting panicking on seeing every unknown and murky face. As a result, our poor brothers and sisters, who have no other option than to beg or roam around to earn their livelihood, are becoming victims of this artificial fear among masses.
A mob of people recently lynched a young unidentified beggar in Gondia district, while a rag-picker couple was left almost dead after they were attacked by some panicked people. In another shocking incident, five innocent poor people, who were begging for livelihood, were killed by a mob in Dhule district.
On Thursday, a few people in Karambhad village in Nagpur district sighted a woman, who was selling herbs for livelihood. Believing the rumors on social media, the villagers suspected the woman to be a child-lifters' gang member and without hearing her pleas, started assaulting her badly. A mob of around 400 people continued their inhuman torture on the helpless woman, who was somehow saved due to timely intervention of police.
On getting the news of the incident, ASI Dilip Agarkar and Head Constable Sangeeta Kove had rushed to the spot and saved the woman from the panicking mob.
The police department has been issuing regular directives to general public to not believe the rumors on social media.
By Narendra Puri