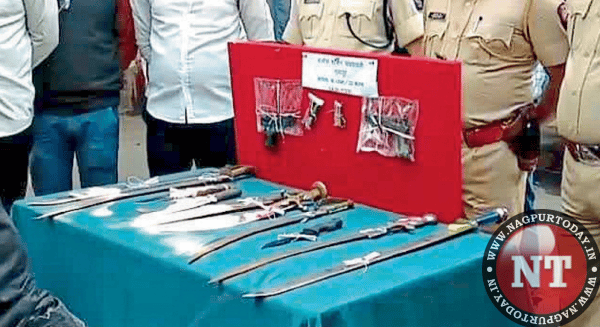 Nagpur: Acting on a tip-off, the Nagpur Police on Sunday evening raided a house in Pachpaoli area and seized a pistol and lethal weapons. The accused has been identified as Shashank Sunil Samudre (23), a resident of Pachpaoli area, near Thakkargram Durga Mata Mandir.
The police have, in total, recovered 14 weapons in the raid, including a pistol, 8 live cartridges, a black colour unloaded magazine and sharp-edged weapons collectively valued at Rs 1.78 lakh.
Based on the information given by accused Shanshak Samudre, a search was launched against another accused Abhay Hazare, a resident of Bapukuti Nagar. He was found with a Honda Activa. On interrogation, the accused Abhay Hazare was found in possession of a pistol. The two accused confessed to having bought the items from Vilas Katare, a resident of Kanjihouse, in Yashodhara Nagar Police jurisdiction.
Under the notification of Home Department, Government of Maharashtra and Joint Commissioner of Police, Nagpur City Prohibition Act Section 37(1), the accused persons were in illegal possession of firearms and deadly weapons.
The two accused have been booked under IPC Section 3, 4, 25 read with 135 Indian Arms Act. The raid was conducted under DCP Gaurakh Bhamre, Assistant Commissioner of Police, Lakadganj Division Sachin Thorbole, Senior Police Inspector Sanjay Mendhe and police personnel Ravi Nagose, Vikrant Tharkar, Avinash Jaibhaye, Poupani Rahemat Sheikh, Vijay Yadav, Amit Satpute, Prakash Rajpalliwar, Nitin Verma, Pawan Bhatkar, Ankush Rathod, Vaudeo Jaipurkar, Ganesh Thakre, Raju Shrivas and Shehnawaz Mirza.