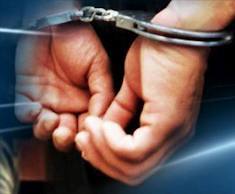 Nagpur Today.
Ajni police arrested three goons for murdering a youth over old rivalry on the eve of Diwali. Sources informed that the accused Ashu alias Ashutosh Narayan Maske (23), Mayur Chandu Borkar (21), Waman Santosh Burade (19) and accomplices murdered Gaurav Dilip Kondawar (22) near the Beltarodi ground on Saturday evening.
Police started the investigation and arrested Ashu, Mayur and Waman in this regard. Police said that on October 31, the deceased Gaurav a resident of Chandra Nagar, behind Naik Hospital intervened to settle an argument between the accused and other persons. The accused started beating him in which Gaurav sustained serious injuries.
After Gaurav was injured critically, he lodged a report in Ajni Police station against Ashutosh Maske, Mayur Borkar, Waman Burade and his accomplices. After registering a case against the accused, the Ajni police arrested the accused, which infuriated the accused against Gaurav. After being released from police custody, the accused Ashu @ Ashish  and his friends were raging with anger and in search of the complainant Gaurav throughout the day to take revenge for lodging a police complaint against them.  The accused somehow got an information that Gaurav is standing in front of Dhude's Pan Kiosk in Belterodi. The accused reached there and took Gaurav to a nearby ground and attacked him with swords, knives and other sharp objects in his head and stomach. This caused the victim to die on the spot. On the basis of the complaint by Mukesh Hukumchand Sharma (27) a resident of Chandannagar Wanjari near the flour mill, a case was registered against the accused Ashu, Mayur and Waman under section 147, 148, 149 and 302 of Indian Penal Code and arrested them.
According to sources, one of the accused's sister is working in the police department. Her marriage is slated to be in a few days.  In such a situation, the family members are troubled.  In such a situation, even as the family of the deceased were morose during the festive occasion of Diwali, the family too is going through the sad happenings during this season.