Nagpur: "Congress is a sinking ship whose captain Rahul Gandhi has already deserted it," said the senior BJP leader and former Madhya Pradesh Chief Minister Shivraj Singh Chouhan while interacting with media persons in city on Thursday.
Chouhan, who is national in-charge of BJP's membership drive, was in city on Thursday. He further said that Congress party did not heed the sane advice of Mahatma Gandhi. Mahatma had told Congress to dissolve the party that after getting independence. "The fake Congress is not heeding the real Congress. Congress is now on deathbed. MLAs quitting the party in Karnataka was a fallout of captain Rahul Gandhi deserting the Congress ship.
The alliance between Congress and JDS was opportunist one. The Government there has lost majority. We have no role in the crisis as BJP never resorts to destabilising any government. The Congress-JDS Government was tottering because of its own folly. The Congress which is not able to set its house in order then how can it be expected to run the nation? Chouhan quipped.
Dwelling on the stupendous victory for BJP in Lok Sabha elections, Chouhan said the party created history because of popular and strong Prime Minister Narendra Modi, adroit strategy of party President Amit Shah and hardworking workers. "But still the party is not wholly satisfied. The ultimate height is still to be attained. In the states where BJP is not ruling, we have to capture the states also. Party is sinking in victory celebrations but toiling hard for expansion. That is why BJP has launched an extensive membership drive across the country afresh. Congress is in tatters. It is headless. But our President is active and making efforts to expand party," the former MP Chief Minister asserted.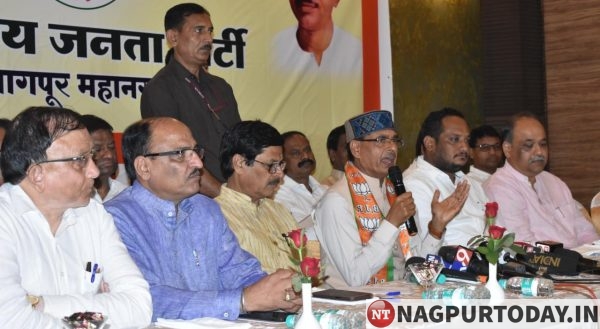 He further said the party will take service of every section of society including doctors, professional sportspersons, artists and other prominent personalities for the membership drive. At least 200 new members will be enrolled at every booth. A target of 6 crore new members has been fixed. But more than 10 crore members are likely to be enrolled during the drive.
The press conference was also attended by MLCs Girish Vyas, Anil Sole, former MP Ajay Sancheti, MLAs Krishna Khopde, Vikas Kumbhare, Dr Milind Mane, City BJP President Pravin Datke, Mayor Nanda Jichkar, Deputy Mayor Deepraj Pardikar, Standing Committee Chairman Pradeep Pohane and other office-bearers.