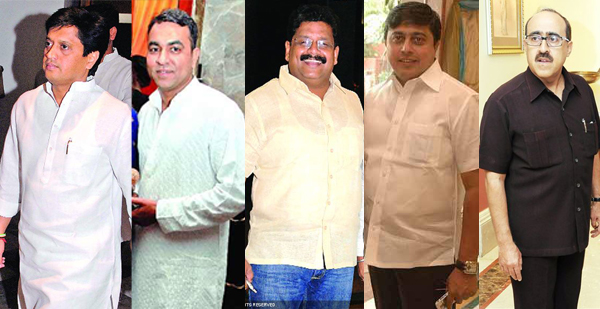 Nagpur News: Even before the bugle of Assembly elections in Maharashtra has not been sounded, the political atmosphere in Nagpur, which consists of six Assembly constituencies, has started to blow hot blow cold. The flip-flops on the parts of aspirant Congress leaders over their choice of constituencies pushing the party workers into confusion and more confusion. The constituencies are North Nagpur, South Nagpur, East Nagpur, West Nagpur, South-West Nagpur, and Central Nagpur.
According to reliable sources, Rajendra Mulak got himself activated with eyes on Central Nagpur constituency. However, Anees Ahmed, played a "clever chess game" and, by a checkmating move, convinced Rajendra Mulak to gear up for the West Nagpur constituency and begin political activities in West the segment. Anees Ahmed told Rajendra Mulak of his intentions to contest the Central Nagpur seat. However, the think tankers close to Anees said he will himself try his luck from West Nagpur. The "Bishop move" (Diagonal move in chess board) by Anees Ahmed has hit two birds with one smart move. First aim of Anees is not to allow a crowd of his rivals to raise their heads against him in the West Nagpur segment by "declaring" he is contesting from the Central Nagpur. The "Central Nagpur declaration" by Anees will automatically divert his rivals' spoil sport minds from the West Nagpur and they would keep themselves aloof from any anti-Anees activities thinking Anees is contesting from Central Nagpur. This way the political situation in West Nagpur would favour Anees to a great extent and might help him in winning the seat.
On the other hand, though Anees Ahmed "convinced" Rajendra Mulak to fight from the West Nagpur constituency, Mulak is feeling uneasy by the "Knight moves," like in the chessboard, by city politicians. He has little hope of getting ticket in Nagpur city, and subsequently, targeting Kamptee-Mouda constituency. Even he has started playing all the moves of chess to win support from the voters in the constituency.
The other scenario would be like a rat race among Rajendra Mulak, Sameer Meghe and Aashif Quereshi, the Government Pleader,  if Anees Ahmed is fielded from West Nagpur. The trio then would fight among themselves for nomination from Central Nagpur. Sources said, Sameer Meghe has firmly decided to contest Assemble polls irrespective parties. The workers of both Congress and BJP have been anticipating, Mulak from Congress and Meghe from BJP. There is also possibility of Congress fielding Sameer Meghe from Central Nagpur, and, Mulak from Kamptee-Mouda. The BJP is on the prowl to field Sameer Meghe from Central Nagpur if the Congress party dumps Sameer Meghe. That is why politics is a different ball game, and, a chessboard, too, where every player wants to checkmate the rival.
On the other side, the political picture is dusty as Abhijit Wanjari and Vikas Thakre, too have been turning tables for Congress tickets. Wanjari is supposed to be of Mulak group, and Thakre is loyal to Vilas Muttemwar. Wanjari is claiming South Nagpur, and Thakre the West Nagpur. Wanjari is facing a giant hurdle from Muttemwar as the Nagpur MP has decided to show present MLA from South Nagpur Dinanath Padole the doors and enter his son Vishal into the arena in South Nagpur. On the other hand, Vikas Thakre is likely to be checkmated by the three senior Congress leaders namely Ashok Dhawad, Ranjit Deshmukh, Anees Ahmed who had demanded their claims for contesting the West Nagpur seat in the earlier Assembly elections. And Mulak is also another player. Both Wanjari and Thakre have no godfathers of their own in the power-center Delhi. In this tricky situation "Delhi Abhi Dur Hain" in the context of Assembly elections and their claims for Congress tickets.
NO CROWD OF ASPIRANTS IN SOUTH-WEST NAGPUR: The aspirants for Congress ticket for South-West Nagpur are almost negligible. One or two Congress workers demand ticket from this constituency. In the last elections, Praful Gudhde Patil and Vikas Thakre had put their claims for South-West Nagpur but Thakre "won" the ticket with the help of his boss Muttemwar but lost the elections. Praful is not wasting his time to claim the constituency and had decided to contest the polls for Hingna-Butibori seat.However, the Congress workers are demanding Mulak or Sameer Meghe for the South-West Nagpur so that the seat could be won otherwise winning the seat is not possible.
NITIN RAUT-SATISH CHATURVEDI: Both the Congress leaders, who enjoyed three terms of MLA and ministers, too, are firm even in the present political situation. If both leaders desert their constituencies, they could have to seat at home and not in Assembly. Satish Chaturvedi at present is seating in home with the defeat in the last elections. Both have certainly spread their empires nobody can assess but in politics nobody is king or pawn unlike the chess.