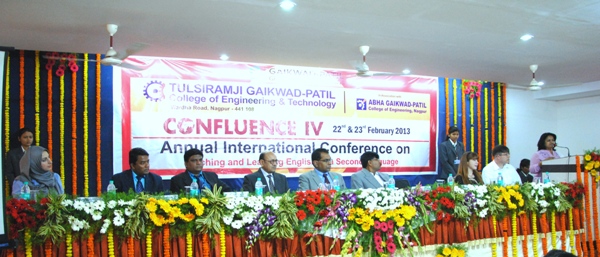 Nagpur News.
In today's rapidly growing and widely spreading education culture, the knowledge about one particular stream falls insufficient. It has to be a blend of various types. In this context, it won't be wrong to mention the importance of English language as a Second language.
Confluence is an annual international conference on teaching and learning English as a Second Language (ESL) – a platform for dialogue and debate with researchers and theorists along with ESL teachers and learners, on the other. There is a pressing need to bring both the sets of the expertise together; Confluence aims to address this need and explore the myriad aspects of ESL.
Nagpur has been fortunate to be able to witness Confluence for the fourth time which was organized by Tulsiramji Gaikwad-Patil College of Engineering & Technology (TGPCET). People from across the globe came up with their research papers at the event.
Urmi Chakravorty, a lecturer said, "I presented my paper on the topic "learning and teaching English in technical institutes" and also had a great experience it was a 2 day conference." She expressed how she could interact with other scholars and researchers from every part of the country including her friends from JNU and IIT chennai. It turned out to be a great conference all together.
Pramod Theng Asst. Professor TGPCET, Nagpur informed that Confluence is an international Conference on Teaching and Learning English as a Second Language, held annually at Tulsiramji Gaikwad Patil College of Engg & Technology, in association with with Abha Gaikwad Patil College of Engg,Nagpur. This language extravaganza is a conglomeration of scholars across the globe wherein they discuss and share innovative teaching methodologies for teaching English Language. CONFLUENCE is the place where teachers and learners of English both come together and share their thoughts with each other.
Anjali Patil, Professor, Coordinator said, "We at Tulsiramji Gaikwad-Patil College of Engineering and Technology feel proud to be the only technical college in Central India to hold an international conference on languages. The conference is instrumental in filling a critical vacuum in the field of teaching and learning English as a second language in this part of the world."
Confluence has helped our institute spread its wings to reach international levels. Our upcoming collaboration with Mahidol University Thailand and Universidad Pontificia Bolivariana of Colombia are a direct result of Confluence and our international exposure is helping us constantly improve our standards, she added.
– Ritu Walia