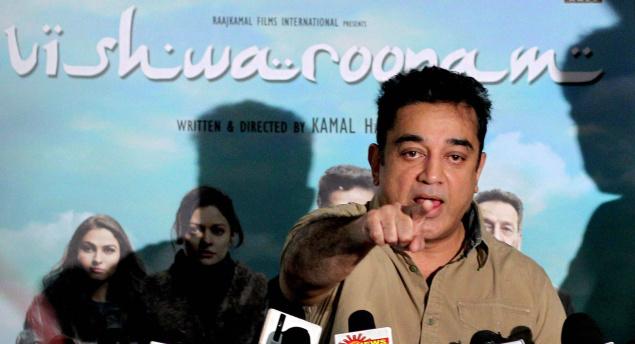 Nagpur News.
As the much talked about movie of Kamal Haasan is facing ban on its release in Tamil Nadu and Andhra Pradesh for its derogatory content against Muslim community, the situation is something different in the region where Vishwaroopam's Hindi version was to be released. Vishwaroopam could face the tough time ahead even if the ban is lifted as the muliplex owners across India including those in Nagpur are not willing to exhibit it in their halls, for the commercial reason. Even the single screen theatres seem not too much interested in taking the risk of running such a movie which is already available on D2H – a unique proposition that enable viewer to watch it on their TV sets by paying per view introduced by Kamal with his latest flick.
The concept was deemed unique by Kamal Haasan when he came to Nagpur for its promotion. However the association of multiplex and single screen cinema hall owners was critical of Kamal's decision as it could hamper the initial box office collection. The members even insisted Kamal to put the D2H release of Vishwaroopam on hold but he refused to relent, following which the exhibitors are now in no mood to take up the movie.
Though the movie is hyped with quote of controversy and Muslims are minimal 7.1% of total population in the city, the exhibitors are more concerned about its financial aspects.
As Raja Laharia, manager at Panchsheel cinema puts up, "There's no use of releasing the movie on big screens and incur losses as people already have the facility to watch it in the comforts of their home. Kamal has turned down the demand to hold its D2H release, and so the exhibitors backed off."
Laharia informed that a movie titled "tujhe meri kasam" starring Ritesh Deshmukh and Genelia D'Souza still does good business in small centers whenever it is shown there. The reason behind the business is that the movie has not been shown on television even till date. "By this simple logic, exhibitors can understand the loss they could bear for releasing Vishwaroopam", Laharia added.
Sources from Inox informed that not only in Nagpur, Vishwaroopam would be going to meet similar fate in rest of the regions where its Hindi version is to be released. "Multiplexes are not going to run the shows for Vishwaroopam anytime in future but things might change for single screen theatres in a day or two, in case they are willing to run the risk," informed the source.
Race-2 :  First day collection dull, picks up on second day
Panchseel Manager Laharia however said that even the first day collection for Race-2 was not too encouraging. Against the packed house collection of Rs 1.16 lakh, the film managed to make it only Rs 84,521 in Panchsheel Cinema on the first day of its release.
Elaborating on the collection at various multiplexes and single screen theatres in Nagpur, Laharia said, Race-2 garnered Rs 3,85,969 at Cinemax, Rs 4,67,600 at PVR, Rs 2,03,774  at Inox Poonam, Rs  1,47,995 at Inox Jaswant, Rs 60,358 at Sudama, Rs 16,090 at Alankar,  Rs 26, 765 at Jaishri, Rs 16,902 at Rajvilas, Rs 51,095 at Sangam on the first day. Race-2 opened to 88 shows on Friday in Nagpur.
However, the film picked up the second day on account of the Republic Day holiday. Panchsheel cinema remained housefull for all the show on 26th January. Collections are assumed to remain stable atleast on Sunday too.