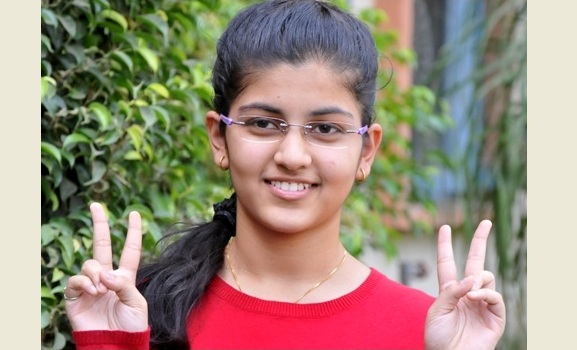 Nagpur News:
The topper in Commerce Stream of the HSSC examination, Sushmita V Vinod of Ambedkar College, Nagpur, frankly spoke with Nagpur Today and elaborated the history from her childhood to present achievement. The following is excerpts:
Nagpur Today: First and foremost question. How much did you score?
Shushmita: It is 93.33 per cent, and for the same reason, I am talking with you because the figure put me on the top of the list.
Nagpur today: How did you prepare for your exams, how many hours did you put in to garner the glory?
Shushmita: I dedicated three hours in the morning as well as in the evening to self study. I always
gave equal importance to each and every subject.
Nagpur Today:   Tell us about your future plans and your preparations for the same?
Shushmita : I want to become a Chartered Accountant and carving out a strategy to see fulfillment of my dream.
Nagpur Today:   Now, since you have what you dreamt for, your advice to students who will be appearing for their exams next year to get same glory like yours?
Shushmita : I'll definitely advice them to properly clear your doubts, consult the concerned teachers, and attend the prelims, and also the test series religiously. Never get tensed, just study.
Nagpur Today: What is your success mantra to be followed by others,too.?
Shushmita:   As it is said, there is no substitute to hard work and the same is the key to success. Now I have realized that it is very much true.
Nagpur Today:  What are your hobbies apart from study?
Shushmita:  I like painting very much. I love cooking, too. I never miss watching the TV serial 'Masterchef', which is my favourite.
Nagpur Today: Any plans for the vacations?
Shushmita: I shall visit my native place, Mysore.
Nagpur Today: Who all should you give the credit of your achievement?
Shushmita: Of course, my teachers and parents, me, too.
Nagpur Today:  Tell us something about your family background.
Shushmita: My father is a Mechanical Engineer and mother is a housewife.