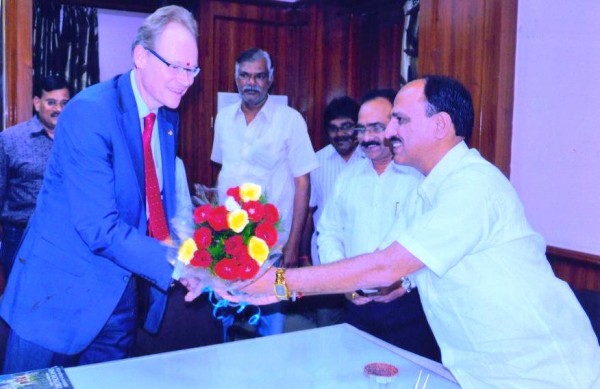 Nagpur News: Consulate General of the German Embassy of Mumbai, Michael Sibert, gave a visit to NMC Nagpur. In the Mayor's Cabin, Mayor Prof. Anil Sole and Municipal Commissioner, Shyam Wardhane welcomed him with floral bouquets. Rahul Telang, Gopal Bohare and Sanjya Bonde were present. Indo – German structures of Industries, Trade, Medical Research, Culture and Education were discussed. Sibert took information on the cargo hub at MIHAN.
Prof. Sole informed Sibert in detail about Nagpur's History, Geography, Culture, Environment and the current progress. Sibert congratulated the Mayor on the city's green cover. Prakash Urade gave a power point presentation on the JNNURM, Pench Prakalp and Vision 2020 schemes for Nagpur. Discussions were conducted on 24X7 water, garbage disposal, up keep of lakes and other water bodies, roads, provision of houses to poor citizens at subsidised rates, health, hygiene, physical education, flyovers, railway over bridges, rehabilitation of slums and transport.
Shashikant Hastak, Mahesh Gupta, Mohd. Israil, Dinesh Rathi and other were present.