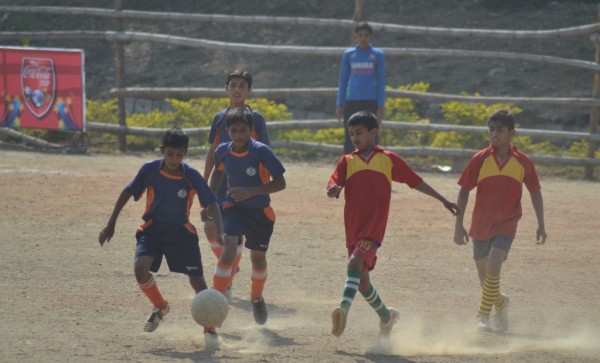 Nagpur News: It was a very close victory for the players of M.M. Rabbani High School as they made it to the finals of the Coca Cola Cup Football Tournament by defeating St. John's High School 4-3 in the tie breaker, after a pitched battle in which Rabbani's Naushad Akhtar and St. John's Anurag Bais shot 1 goal each. The stars of the tie- breaker were Rabbani's four shooters Naushad Akhtar, Irfan Malik, Mohd. Rizwan and Anas Akhtar, and St. John's High School's three shooters Anurag Bais, Karel Vaz and Swraj Borker.
Anjuman High School was also given a tough fight by St. Vincent Pallotti, as the second semi- final was also a draw with Anjuman's Mohammad Kafeel and Pallotti's Tabrez Sheikh shooting 1 goal each. However, the nail- biting tie breaker saw Anjuman High School emerging victorious with 5 goals shot by Mohd. Kafeel, Mohd.Ikram, Mohd.Sabir, Mohd.Faraz and Nayeemuddin, as against St. Vincent Pallotti High School's 4 goals shot by Tabrez Sheikh,Azhar Khan, Yash Shukla and Alman Ali.
In the finals, to be held at 10:30 am tomorrow, Anjuman High School will be pitched against M.M Rabbani High School for the Mir Iqbal Husain Trophy 2012- 13.