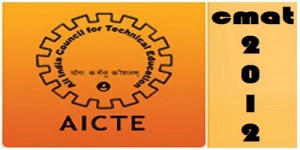 Nagpur News:  AICTE has launched the National level Common Management Admission Test (CMAT)for facilitating institutions to select suitable students for admission to management Programmes. The list of AICTE approved institutions that will be using CMAT scores for admission in management programmes for 2013-14 is given at http://www.aicte-india.org/downloads/mis/Management.htm
Eligibility : Graduates in any discipline or final year students of Graduate Courses can apply for CMAT online.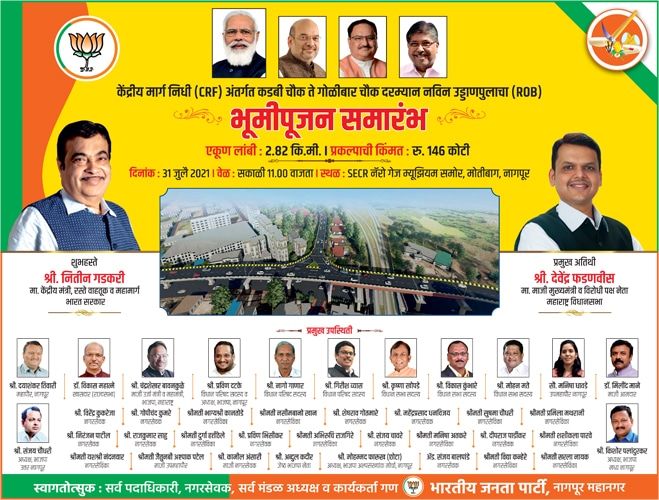 The eligibility criteria for admission to Management programs (Diploma and Post – Graduation) are as follows.
(i) Management (PGDM, MBA and similar): Recognized Bachelor's Degree after a course of minimum of 3 years duration with at least 50% marks (45% in case of candidate belonging to reserved category) at the qualifyingExamination
(ii) Management (PGCM): Recognized Bachelor's Degree after a course of minimum of 3 years duration.
(iii) Management (Executive PGDM): Any recognized Bachelor's Degreeafter a course of minimum of 3 years duration with at least 50% marks (45% in case of candidate belonging to reserved category) at the qualifying Examinationand a minimum of 5 years relevant managerial / supervisory experience
Those who have already appeared in CMAT (First Test) may also appear for Second Test for improving their score. In such cases, the better of the two scores will be used for admission for 2013-14.
Test Centres and Test Pattern : CMAT will be a Computer based test and will be held between 21.02.2013 and 25.02.2013 at Agartala, Ahmedabad,Ahmednagar, Allahabad, Amravati, Amritsar, Aurangabad, Bangalore, Bareilly, Bhavnagar, Bhopal, Bhubaneswar, Bhuj, Chandigarh, Chennai, Coimbatore, Dehradun, Delhi,Dhanbad, Durgapur, Gorakhpur, Gulbarga, Gurgaon,Guwahati, Gwalior, Hyderabad, Indore, Jabalpur, Jaipur, Jammu, Jamshedpur, Jodhpur, Kanpur, Kochi, Kolhapur, Kolkata, Kota, Kozhikode,Lucknow, Ludhiana, Madurai, Meerut, Mumbai, Mysore, Nagpur, Nasik,Navi Mumbai, Noida,Panaji, Patna, Pune, Rajkot, Raipur, Ranchi, Shimla, Srinagar,Surat,Trivandrum, Udaipur, Vadodara, Varanasi and Visakhapatnam in two sessions on a day, between 9.30 am and 12.30 pm and from 2.30 pm to 5.30 pm.
CMAT will be of 3 hours duration without any break and will have 100 objective type questions from four areas. There will be 25 questions each with maximum of 100 marks from each of the four topics (i) Quantitative Techniques & Data Interpretation (ii) Logical Reasoning (iii) Language Comprehension and (iv) General Awareness. For each wrong answergiven, 1mark shall be deducted from the score. At the test venue, the candidate will be seated at a desk with a computerterminal and he/she will be provided with a scratch paper for calculations. After the test, candidate must leave the scratch paper at the desk. Rough work cannotbe done on any other paper/sheet, as nothing will be allowed inside the testingroom.
There is no sectional cut off in the CMAT examination. All the candidates who appear in the test based on their aptitude towards the management education will be ranked in the order of their merit. The objective of the test is not to eliminate the candidates from the process of seeking admission in the AICTE approved management programmes, but to facilitate the institutions to select the suitable candidates as per their merit.
A Trial test is available at http://www.aicte-cmat.in/for the candidates to have a feel of the online test and navigation functionality. Candidates may go through them carefully to familiarize themselves with the screens, layout, andnavigation.
Fee: The Test Fee for General/OBC applicants will be Rs.1200 + Bank charges as applicable. For SC/ST/PD applicants, the fee is Rs.600 + Bank charges as applicable Payment can be made by Net Banking /Credit / Debit Card, online through www.aicte-cmat.in. It can also be remitted by way of Cash at any branch of State Bank of India, using the challan generated online while registering.
Registration: Registration for CMAT can bemadeup to 2ndJanuary, 2013 at www.aicte-cmat.in. Choice of 3 cities for online examination in the order of preference has to be made while applying. Allotment of centre for the examination will be based on first come first served. Actual allotment however will be subject to availability of the slots in a particular city.
Thefollowing may be kept ready before starting the CMAT registration process.
(i) A Computer with good Internet connectivity so that there is no breakage of Internet during registration.
(ii) Details of all qualifications as they have to be entered while registering
(iii) A scanned clear photo of the applicant taken on a white background, the size of which should be 140 x 160 (60Kb), to be uploaded while registering
(iv) The scanned clear signature of the applicant with a size of 60 x 90 (30Kb), on a white background to be uploaded while registering
(v) A Valid e-mail id to be used at least for the next 6 months. All communication will be done on this e-mail id which is entered while registering for CMAT exam
(vi) A Valid mobile number as all information via SMS will be sent to this number
(vii) A valid Credit / Debit card in case payment of fee is being made online
(viii) A Printer connected to the system to print 3 copies of Challan in case payment of fee is being made by Cash at the bank
Registering for CMAT is a three-step process. In Step 1, Registration is to be done. Applicant should read the Instructions and do the Self Registration. Initially, the applicant has to enter the site as a New User. Here the applicant should read the instructions carefully, accept the declaration and proceed to do the Self Registration. Few basic details will have to be entered here. It should be verified for correctness, beforeclicking on the 'Submit' button on this page. Once the data is submitted, it cannot be edited. On Submitting, this page will generate a unique 6 digit password. This password will be shown on the computer screen and will be sent to the e-mail given and to the mobile as a SMS. From then onwards, applicant has to login at the registration portal as an 'Existing User' and login with the e-mail id and this unique 6 digit password. This completes the self-registration. The next step is the Payment Process which can be completed in one of the two possible modes.
Online Payment : Applicant may select 'Online Payment' mode and then do the payment using Credit card / Debit card / Net Banking. Once the payment is successfully done, applicant will receive a confirmation e-mail and a SMS. Once the successful payment confirmation is received, the applicant may proceed with the remaining part of registration process
Cash Payment in SBI : Applicant may select this option to remit the fee by cash at any of the designated SBI bank branch. Once this option is selected, applicant will see a 'Challan' on the computer screen with the details already filled, in it. Three print outs of this Challan is to be taken and the details filled in wherever required in all the copies. Remittance will be accepted only from the next day after the generation of the Challan. Remittance can be made at a branch of SBI on the next day of generation of Challan. On making the payment, the bank will return to the applicant, one copy of hallan with their stamp and a Journal number written on it. It should be ensured that the Journal number written is clearly visible. After depositing cash and getting the acknowledgement Challan,applicant need to wait for 48 hours to continue the process of registration. In these 48 hours, the payment will get updated in the registration portal. Applicant will receive an e-mail and SMS confirming that payment data has got updated in the registration portal. Applicant should then re login to the portal and proceed with the remaining part of registration process.
The last date to pay Cash in bank is 3rd January 2013 and the last date for completing registration is 5th January 2013. After making the payment, applicant has tofill the remaining part of the form. Oncompleting the form, applicant should again check the complete data entered by clicking on 'View/Modify' button. Clicking on 'View/Modify' button will allow one to modify the data entered, in case it is to be modified.
Once applicant is sure that all the data entered is accurate, he/she will have to accept a declaration and click on 'I Agree'. The system will re-confirm the applicant for 'Submit'. Once the applicant confirms, the form will get finally 'submitted' and no change in the data is possible after this 'Submit'. The applicant will see a message on the screen stating 'Thank you for successfully registering for the AICTE CMAT February 2013 exam. Please login from 11th Feb 2013 onwards to download your exam ADMIT CARD. For latest updates, please visit www.aicte-cmat.in'. If needed, applicant can 'Print'the filled form and keep a copy for reference. This completes the registration process.
Admit Card: Facility to download the Admit Card/Hall ticket for the examination will be available at www.aicte-cmat.infrom 11.02.2013. Candidates will have to bring the attested copy of CMAT 2013-14 (Second Test) Admit Card with recent passport size photo pasted on it when coming for the Test along with at least one original (not photocopied / scanned copy) and valid (not expired) photo identification which may be one among Driver's license, Passport, PAN Card, Voter ID, UID card or a notarized Affidavit (in English) with Photo, Signature, Date of Birth and Residential Address. The name on the photo identification document must match the name of applicant as entered in the CMAT application. Photocopies of the original are not acceptable. Candidates will not be permitted to take the test if photo identification is not presented. SC/ST candidates are required to bring the valid caste certificate in Original and an attested photocopy. Physically Disabled candidates are required to bring the valid Disability certificate in Original and an attested photocopy. Attestation can be done by the Institution head also.
Result: The results will be declared on 13.3.2013 and the Print out of Score Cards can be taken from 13.3.2013 to 13.4.2013. The detailed merit list will be provided to the respective State Governments for allotting the students through central counseling or otherwise as per their notified admission procedure. In case there is no central counselling, Scores awarded will be used for admission in the AICTE approved Institutes/University Departments.
For more details, visit http://www.aicte-cmat.in/