CM inaugurates renovated Idgah premises at Sadar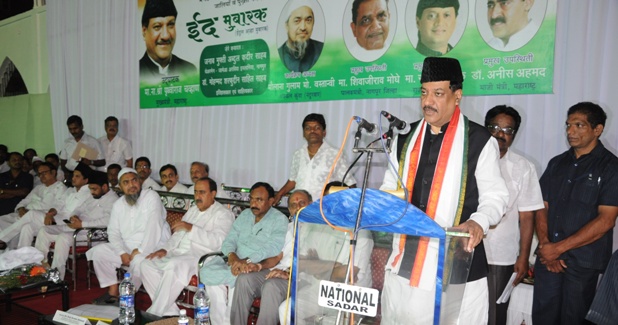 Nagpur News.
Maharashtra Chief Minister Prithviraj Chavan inaugurated the renovated Idgah premises at Sadar on October 11, 2013. The premises were renovated from funds made available by former Minister Dr Aneez Ahmed. The funds ensured the beautification and erection of the walls, steel gate, grills and solid flooring tiles.
The CM was welcomed in pure Urdu "Maharashtra Ke Wazeer-E-Allah Prithviraj Chavan Ji" and was accorded a warm welcome of hugs from the president of the programme Maulana Gulam Mohd Vastanvhi from Akal Kunva (Nandurbar) and other dignitaries. He was given a shawl and a cap as a mark of honour by former Minister Dr Aneez Ahmed.
Former Minister Dr Aneez Ahmed while welcoming the CM requested that the funds to Madarsas be hiked from Rs 20,000 to Rs 50,000. He also welcomed all the dignitaries. Facilitation of various dignitaries like Maulana Gulam Mohd Vastanvhi, Dr Sharfuddin Sahil, Sheikh Saifuddin, Head of Fidvi Trust and neighbor Bhai Fidfi Sahab, President of Mahaveer Hanuman Mandir Committee and neigbour Parmeshwar Dayal Sharma.
The Chief Minister started his address by wishing everyone "Id Mubarak". The CM said that he lauded the efforts of former Minister Dr Aneez Ahmed and all those who worked tirelessly for helping in renovating the Idgah premises at Sadar.  He assured to provide funds worth Rs one crore for modernization of Madarsas. The CM, while lauding the efforts and the passion of Maulana Gulam Mohd Vastanvhi said that when he came from Nandurbar asking for permission to start a Medical College there, he was skeptic. But when Maulana Vastanvhi showed a detailed plan of action, building plans, the courses and other project proposal, he was amazed and gave permission for that. Now there are many Muslim boys and girls who are studying to become doctors. He congratulated Maulana Vastanvhi for his zeal and efforts. He stressed on the importance on Taleem (Education in Urdu) and how it is important that our children should acquire the best education to come into the main stream. He added that in the first phase Maharashtra government has identified 144 villages where many development activities will be carried out which included Madarsas, burial grounds, hospitals etc. He also assured to provide funds for these development activities. Also present on the occasion were Guardian Minister Shivajirao Moghe, Minister of State for Finance Rajendra Mulak, EGS Minister Dr Nitin Raut and other dignitaries. A large number of muslims from in and around the area were present on the occasion.