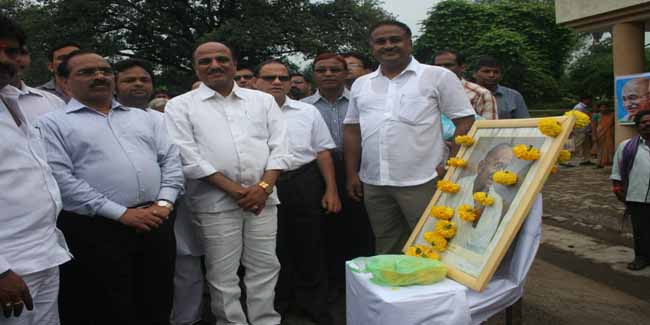 Nagpur News: On  the occasion  of the Father of the Nation Mahatma Gandhi's , birth anniversary celebration , Government  Medical College and  Hospital Nagpur carried out cleanliness drive on 2nd  of October 2013 in the hospital premises from 7am to 2 pm.
Hon Shri. Anil Sole, Mayor of Nagpur & Shri Shyam Wardhane Muncipal Commissioner garlanded the photo of Mahatma Gandhi and declared the cleanliness drive inaugurated. The Dean, Dr. Rajaram  Powar, the Medical Superintendent, Dr. A. M. Pawde, Shri Dorve CAO and all Heads Of Departments, Dr. Dixit Chairman , Dr. Golawar Secretary  MSMTA & all Members (Maharashtra State Medical Teachers Association), Dr. Tirpude, Dr. Fusey, Dr.Mundle, Dr Kamble, Dr. Humne, Dr. Barsagade,       Dr. Bokde, Dr. Mishra, Dr. Lata Tapnikar Mrs Vaishali Tayde Metron, A.O. Shri khangan, Shri Deshpande , other hospital staff , officers,doctors and teachers from clinical and Non clinical departments were present for the occasion.
In the NMC cleanliness drive undertaken from  the 2nd to 11th  October, 2013 the slogan "Majhe Nagpur, swachh Nagpur" was adopted. NMC has started its drive from GMC Nagpur .NMC has provided workforce of 100 sweepers, JCB, Truck, Minirobo etc.They have taken it upon themselves to clean the hospital premises, college surrounding , TB wards and Superspeciality compound . The hospital and college staff from MSMTA and all other staff from class I to class IV supported in cleaning the interior of the hospital's wards, staircases and corridors on the occasion.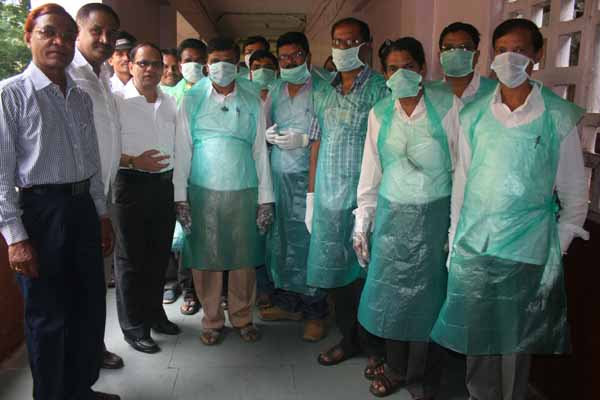 Dr. Gawande, Assistant Professor, Dept. of Preventive and Social Medicine sponsored cleaning solution from a private agency .
Humne, Assistant Commissioner, NMC was the person who enthusiastically initiated the program.
With the large turnout of the staff and officials on the occasion, provision of cleaning materials and systematic allocation and distribution of the workforce, the initiative by the college authorities has made this program an extremely successful endeavor.
Through this event we make an appeal to the society at large & visitors to this Hospital to maintain the cleanness in Hospital premises.