Nagpur News: A team of Central Bureau of Investigation (CBI) raided the house of two income tax officials on Tuesday at Akola, Nagpur and Khamgaon. According to information, CBI raided Income Tax Officer Harshwardhan Nanoti's resident and his agent Rajesh Jaiswal. At Nagpur, raid was conducted at Nanoti's Atre Layout flat.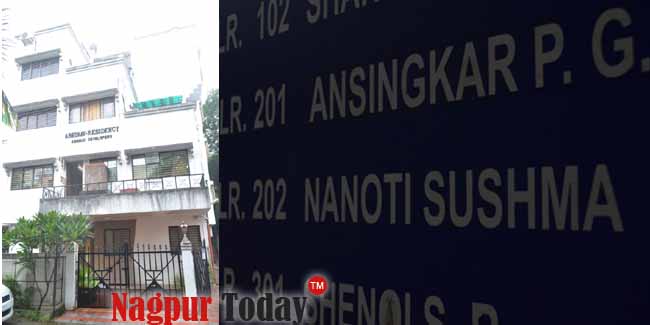 Central Bureau of Investigation, Nagpur has registered a regular case bearing No.RC.16(A)/2013-NGP against accused H.R.Nanoti Income Tax officer, Khamgaon, Distt. Buldhana u/s. 7 of PC Act, 1988 on 12.09.2013 for having demanded an illegal gratification to the tune of Rs. 75 lakhs as a motive for settling the income tax dues from Rs. 4 crores to Rs. 1 crores of the complainant of the instant case.
In his written letter of complaint dt. 11-09-13 addressed to Supdt. of Police, CBI ACB the Complainant had stated that he was running a maternity hospital at Khamgoan since 1996 and was a regular Income tax payee. On 10-09-13 a team of Income tax officials including the Accused Shri H.R.Nanoti, ITO Khamgoan had conducted survey of his hospital and his residence at Khamgoan and had unauthorizedly taken away the records of his hospital and also his property documents without preparing any panchnama etc.
The complainant also stated in his complaint, that despite his submission of paying the income tax on a regular basis Shri Nanoti the ITO had told him that his pending dues can be settled by him from Rs. 3 crores to Rs. 1 crores provided a sum of Rs. 75 lakhs was paid as illegal gratification for himself as well as other officers of income tax who had conducted searches in his house. Shri Nanoti had also threatened the complainant of sealing and seizing his hospital and initiation of criminal proceedings under provisions of Income tax laws, if the bribe amount demanded is not met with.
On the basis of the said complaint, verification of the alleged demand of bribe was made by officers of CBI Nagpur wherein the accused N.R.Nanoti, ITO reiterated his demand of bribe which was scaled down to 35 lakhs and thereafter settled for Rs.20 lakhs. The said conversation was recorded. During investigation the role of one Rajendra Kr. Jaiswal a liquor merchant of Akola was also established. He happened to be a conduit of accused H.R.Nanoti, ITO in conducting such transactions and was sent by Shri Nanoti to collect the bribe amount from the complainant. Conversations that Shri Rajendra Jaiswal had with the complainant was also recorded wherein the nexus between him and accused H.R.Nanoti could be established.
On 2-10-13 the officers of CBI Nagpur had conducted searches under the leadership of Shri Vijay Kumar, Dy.S.P of CBI Nagpur, in the office and houses of H.R.Nanoti, ITO which are located at Akola as well as in Nagpur. Similar searches were also conducted in the house and office of conduit R.K.Jaiswal at Akola. Huge incriminating documents were seized from their houses.
Shri Pradeep R.Lande, PI is the investigating officer of the case and the entire operation that took place on 2.10.2013 was undertaken under the supervision of Shri Sandeep M. Tamgadge, Superintendent of Police, CBI, ACB, Nagpur.