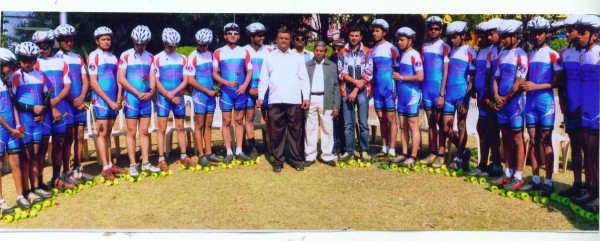 Nagpur News: The skating rally organised from Kanyakumari to Nagpur city crossed Madurai today. The rally was flagged off by Mayor of Nagpur Anil Sole and Kanyakumari Municipal Corporation President Prabha Winston from Kanyakumari's "Gandhi Mandapam" at 8:00 am yesterday, and the participants had covered a distance of 247 kms on skates on Day 1.
The rally has been organised by NMC to mark the 150th birth anniversary of Swami Vivekananda. Twenty five skaters- the youngest aged 11 years and the eldest aged 39 years- will travel a distance of over 2000 kms from Kanyakumari to Nagpur city on skates. According to NMC Standing Committee Chairman Dayashankar Tiwari, the skaters are expected to reach Nagpur on 12th January at around 5:00 in the evening. All twenty five of them have undergone rigorous training for the past six months for this event. The team comprises of Swapnil Samarth, Akash Sathavne, Krishna Rathe, Charudatt Bante, Mahesh Lonare, Vaishnavi Deval, Amit Ingle, Lalsingh Yadav, Pranay Aher, Saurabh Deve, Nitish Kumar, Pavan Dande, Paresh Bhandarkar, Rahul Nikhare, Dheeraj Chawade, Sagar Dhawde, Parash Chavan, Aditya Parmar, Deepak Chavan, Chaitanya Deshmukh and Sayyed Alam Ali.
The skaters will be following a team of bikers comprising Ashok Chavan, Bhojraj Bante, Ganesh Deval, Mahendra Dave, Pramod Aher, Kumkumchand Deshmukh and Maulesh Mundoria for guidance.
The largest distance to be covered by the rally in a day will be 249 kms from Kurnool to Hyderabad, and the shortest will be 78 kms from Hinganghat to Nagpur. Various cultural programmes have been organised at numerous stops along the route.