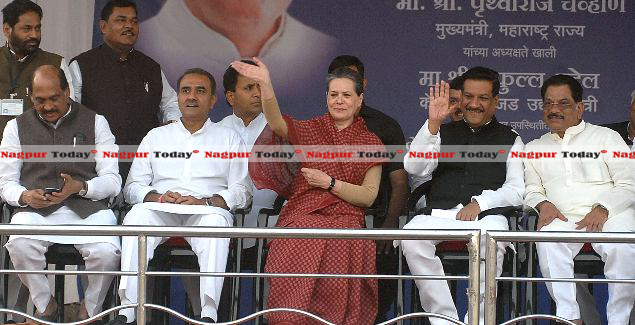 It was the occasion that is rarely seen not only in Nagpur but the entire Vidarbha region. All roads led to Kasturchand Park post noon on Thursday. Amidst the election wave flowing through neighbouring states, Nagpur saw a massive rally organized by Maharashtra Pradesh Congress Committee addressed by none other than Congress president Sonia Gandhi.
The occasion was much bigger than expected as more than 2 lakh people turned up at Kasturchand Park to hear Sonia Gandhi who arrived here for public launch of Rajiv Gandhi Jeevandayee Arogya Yojana, a state run government scheme that ensures free health benefits to 2 crores 11 lakh families across Maharashtra. The scheme will provide all yellow or orange ration card holders, and Annapurna and Antyodaya card holders coverage upto Rs 1.5 lakhs for 971 types of diseases and 121 follow-up procedures.
The programme started with Sonia Gandhi distributing the cards to few of the beneficiaries at the venue. Nagpur MP Vilas Muttemwar and Rajendra Mulak, Minister of State for Finance & Planning, Energy, Water Resources, Parliamentary Affairs and State Excise were overwhelmed with the grand gift of health to their people from Nagpur.
During her visit, Sonia reaffirmed her party-led UPA Government's commitment towards welfare of the 'aam aadmi' (common man). She said the UPA government was committed to provide better healthcare facilities to the common man, particularly the poor, rural women and children.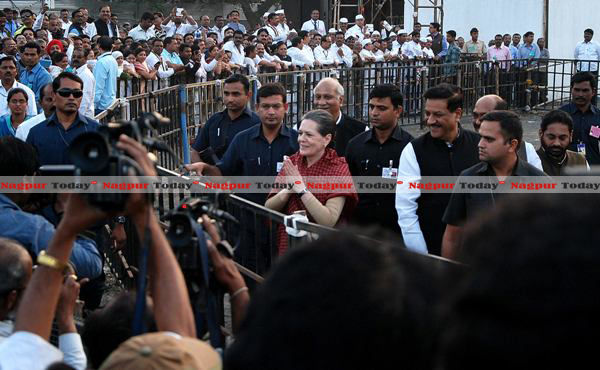 The Congress-led Democratic Front (DF) Government was doing a yeoman service for people, who will greatly benefit from the health plan, she said.
Gandhi lauded the government for extending the project, which was launched on a pilot basis last year in eight districts, to the remaining 27 districts.
Under the plan, the poor families will not only get free treatment including surgery, post-medical care and medicines, but the patients will get paid for return journey to their respective native places from hospitals, said Gandhi, who is also Chairperson of National Advisory Council.
Gandhi also expressed concern over the health of women, particularly in rural areas who, she said, have a tendency of hiding their ailments just to ensure their spouses do not face monetary burden of medical bills.
Maharashtra Chief Minister Prithviraj Chavan, Union Minister and NCP leader Praful Patel, MPCC President Manikrao Thakre and State Health Minister Suresh Shetty were also present at the rally. Patel addressed the rally while Chavan also expressed his words of gratitude towards Sonia Gandhi for gifting the state the significant health cover to the underprivileged people of the state.
The UPA Chairperson also interacted with 78 select patient-beneficiaries of the scheme at the venue.