Nagpur News
Yet another startling revelation tumbled out of big Shreesurya investment scam that may send both financial and political circuit in a tizzy. Informed sources revealed that a senior politician belonging to saffron outfit Bharatiya Janata Party (BJP) had put Rs 8 crore as investment in Shreesurya Investment.
As the inquiry into the complaints of over 5000 big and small investors losing funds of over Rs 250 crores was on, the latest information has set the investigators changing the course of their probe. Sources indicate more such enormous investments into Shreesurya's dubious schemes.
The information surfaced when the crime branch peeped through incriminating documents, computers with data of shoddy deals stored in them, hard discs and other crucial material. The Rs 8 crore investment, biggest so far, follows Rs 4.50 crore investment by a liquor dealer and Rs 1.25 crore by a coal businessman, sources said.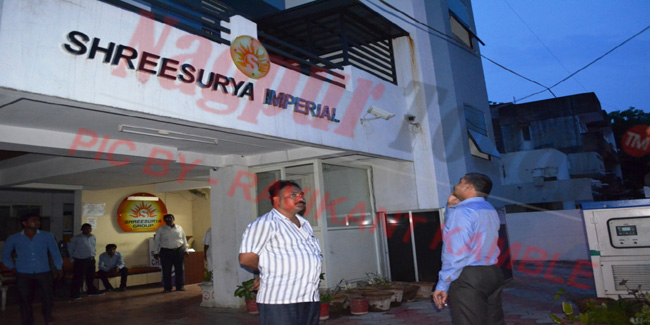 Agitation to press for Joshi's arrest
Meanwhile the investors had resented over the police inaction in arresting Sameer Joshi, Chairman of the Group and his wife Pallavi. Some of the investors even doubted the role of police in the development brought out so far. Now, several political and social organizations have started preparations for launching an intense agitation to press for the arrest of both Joshi and his wife. The organizations have decided to stage demonstration in front of police commissioner's office in Civil Lines. A meeting of different office-bearers of the organizations was held in Dharampeth on Thursday to chalk out the strategy for the agitation.
CBI probe demanded
The "Bhrashtachar Virodhi Janman and other organizations have demanded a CBI investigation into the biggest scam ever as far as Nagpur and Vidarbha is concerned. They have given an ultimatum of three days to police to arrest the scamster couple or they too would protest in front of CP's Office. Even after the agitation, if police failed to act, the organizations warned of moving to the High Court with a petition in this connection. The meeting was attended by Sanjay Agrawal, Vijay Jain, Sonam Shaw, Prof Kharat, Deepak Mehadia, Lalit Agrawal, Suresh Waghmare, Pankaj Kalbande, Laxman Mailibundi, Roshan Chavan and other activists.
MNS too warns protest
The Maharashtra Navnirman Sena leader Sharad Deshmukh has warned of strong agitation if the Joshi couple is not arrested within 24 hours. The Surya Group has robbed the innocent investors of their hard earned money. The Surya Group Niveshak Kruti Samiti's Anil Khandekar, MNS City Secretary Sameer Arbat have appealed the investors and other citizens to participate in large numbers.
Supreme Court Order
However, sources said, the delay is in obeisance to the Supreme Court's order that states that no arrest could be made without concrete evidence of the offender's involvement into financial fraud. Police are now hunting the unassailable evidence of involvement of Sameer and Pallavi Joshi in the scam that can lead to their arrest, sources said. Police have already seized their passports so that they cannot leave the country till the probe is pending against them.
Secondly, in order to make arrest in the matter of financial fraud amounting to over Rs 1 crore, special permission is required as per rule, from top level police officials. These procedures have certainly kept the arrests at bay, sources added.
… Ravikant Kamble