City IFS officer leaves job to serve poor, needy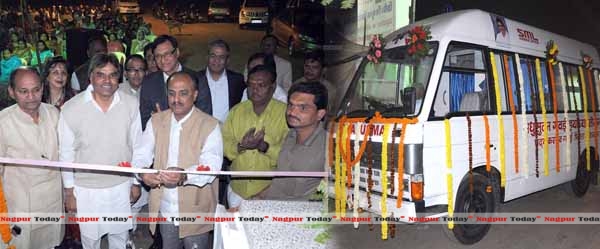 Nagpur News.
After a fairly long inning in the Indian Foreign Service, Madhusudan Gavai sought voluntary retirement from his government job in December 2009 from the cozy comforts of London where he was posted as a Minister. The decision to retire voluntarily from a lucrative career stemmed from an ardent desire to promote the welfare of the underprivileged segments of society and his community directly. With this aim in mind, he founded the Padmakar Gavai Bahu Uddeshiya Samajik Sanstha in the memory of his father in April 2012. Madhusudan Gavai is the son of the distinguished civil servant from Maharashtra, the late P. G. Gavai, a former Chief Secretary, Government of Maharashtra and Lt. Governor of Delhi and a prominent social activist.
Reaching slums with healing touch
At present his organization runs two Mobile Dispensaries which provide free medical consultation by doctors and dispenses free medicines to poor people in 30 slum colonies located in the Nagpur Northern-region. The mobile dispensary works 6 days a week in two shifts to cover these areas. Ever since their launch in April and December 2012 respectively, approximately 80,000 poor and needy patients have availed these facilities and continue to do so in ever increasing numbers.
All for computer literacy
In addition to the mobile dispensaries, the Sanstha was instrumental in starting three Computer Training Centres  for slum children in this region and has since handed over its running to the locals. The Sanstha has adopted the Vision English School at Teka, Pili Nadi and  has constructed four additional class rooms for the school and has solved the water logging problems faced by the school  during monsoons.
Beyond communal borders…
The Sanstha has built a boundary wall of Madarsa  Idara Talimmunisa near this school. The Sanstha has distributed spectacles to about 900 poor people free of cost in six camps organized so far in Nagpur North Region. This activity of the Sanstha is a continuous work in progress aimed at reaching out to maximum beneficiaries. On the occasion of the Birth Anniversary of the Sufi Saint Tajuddin Baba, the Sanstha distributed warm clothing to about 120 poor elderly people in Badabhaupeth in Nagpur North Region on 27th January 2014.
Financial assistance to women
The organization in the first phase has organized financial assistance of Rs.10,000/- each to 40 poor women residing in the Nagpur North Region to enable them to stand on their own feet. It aims to provide financial succor to about 1000 such women in the near future. The Sanstha has financed completion of construction of the BudhVihar at Adarsh Nagar in Nagpur North Region.
:: Manohar Roy