North Indians give open support to Vilas Muttemwar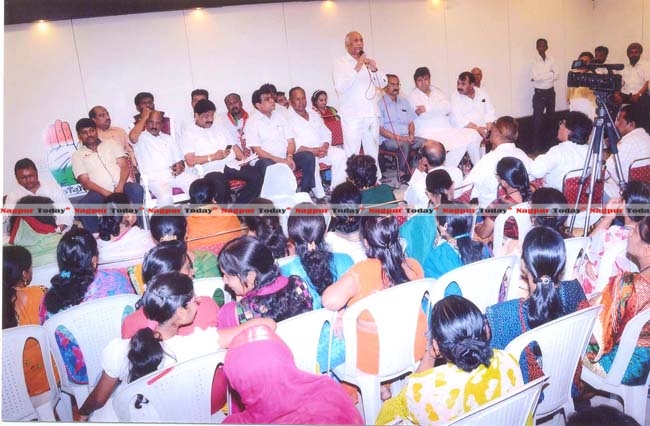 Nagpur News.
Congress, NCP, PRP, Bahujan Republican Ekta Manch and Lokmanch workers meet had been organised by NCP city chief Ajay Patil at Heritage Lawns, Bairamji Town, Chhinwara road, Nagpur.
MP Vilas Muttemwar,  NCP leader Gangaprasad Gwalbansi, former MLA Ashok Dhawad, North Indians organisation chief, Umakant Agnihotri, civic body member Pragati Patil, Saraswati Salame, former civic body member Nitish Gwalbansi, Kishor Jichkar, People's Republican Party's Vidarbha chief Bhimraoji Khose, Dr Prashant Chopda and other dignitaries were present on the dais.
NC's former civic body member, Nitish Gwalbansi made introductory speech. Umakant Agnihotri while extending support on behalf of north Indians said that the people of north India present in Nagpur will not forget to teach Nitin Gadkari a lesson in the coming election, who has joined hands with MNS and Shiv Sena, the organisations which constantly talk of expelling north Indians from Maharashtra.
This is not the poll now of Vilas Muttemwar but our own struggle as our very existence is at stake so our workers will work in this poll in that spirit only, Agnihotri said.
During the speech of Agnihotri the rains started and so the workers gathered at the Heritage Hall. All the leaders guided the people at the meeting. They said India has been ruled by Congress for 55 years but BJP has only 6 years to its credit. This is the country where not even pins were manufactured; there was no electricity, no roads and no education facilities. In that very country now four lane roads, missiles, higher education facilities, power in all houses and all such facilities have been created. Is this the progress achieved by BJP in its 6 year tenure? And do you really think that Congress has done nothing?
Vilas Muttemwar raised many such vital questions. He informed that when India's population was only 40 crore we had to import food grains but now with population touching 125 crore we have become independent with regard to food grains even our granaries are brimming full. Muttemwar said Congress backed UPA government has brought Food Security Act and has given legal right to food grains to 83 crore people. He exhorted the workers to move from house to house and convince people of all these achievements.
It was evident from the congregation that there is active partnership between Indian National Congress and National Congress leaders.
The meeting was co-ordinated by Ghanshyam Mange and the vote of thanks was proposed by Ajay Patil. Prakash Anchalwar, Vimal Kochar, Kadav Guruji, Deepak Wankhede, BismillahKhan, Akil Khan, Arif Khan, Akram Khan, Owes Kadri, Javed Hafiz and many other NC and INC workers were present at meeting.
Vilas Muttemwar's rally in Gorewada area
Congress, NC, PRP, Bahujan Republican Ekta Manch and Lokmanch candidate for Lok Sabha, Vilas Muttemwar organised election campaign rally in Gorewada area. It began at 8 am from Gorewada locality. It went from Madhav nagar, Uthannagar, Paloti nagar, Swagat Nagar, Rathod Layout, Jafar Nagar, Awasthi Nagar, Ahbab Nagar square, Anant Nagar square, Police line Takli and it came to end at 11-30 am. After the rally Vilas Muttemwar paid visit to Chhaoni and Mankapur area. During the rally, at many places Muttemwar was offered garlands and flowers. At Ganga Nagar, 101 women performed Aukshwan  of  Muttemwar.  National Congress chief, Ajay Patil, Congress city chief, Vikas Thakre, senior leader of NC, Gangaprasad Gwalbansi, Dr Prashant Chopda, Ghanshyam Mange, Kishor Jichkar, Nitish Gwalbansi, Rameshwar Khadse, Mukin Khan, Owes Kadri, Indrasen Thakur, Anjum Kayyum, Sukhdeo Manohar, Ishwar Barde, Rishi Taronde, Sanjay Mohod, Suresh Kedari, Ashok Marshettiwar, Gev Awari, Avinash Patil, Pascal Tambe, Sonia Singh, Mina Sunkar, Pragati Patil, Vikram Pankule, Dr Prakash Randive, Rakesh Mohod, Charansingh Vasu, Bala Singurwar, Vijay Barse, Tanwir Ahmed, Arun Titarmare, Saraswati Salame, Gajjanfar, Rakesh Pannase, Sadiq Bhai, Shilatai Mohod, Sanjay Mohod, Izaz Khan, Indrasen Thakur, Suresh Kalbande, Janrao Gedam, Bablu Pathan, Mushtafabhai, Prashant Mendhe, Adwin Paul, Anjali Atram and many other workers participated in the rally.