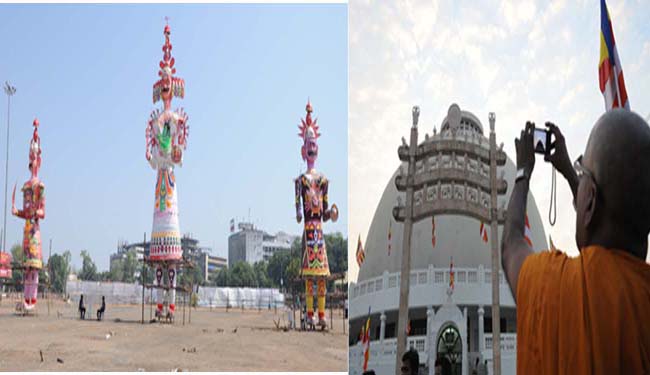 Nagpur News : City gear up for Vijayadashmi and Dhamma Chakra Pravartan Din to held on Wenesday, heavy police bandobast can be seen in the entire Nagpur city,security has been beefed up.
Ravan effigies ready to go up in flames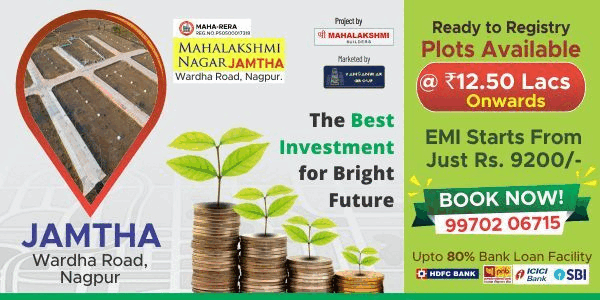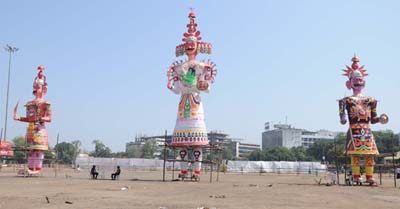 Like every year, the Sanathan Dhram Yuvak Sabh at Kasturchand Park Ground  is set to celebrate Dassera by organising a Ramlila, which will also include Ravan dahan', the burning of the effigy of the Demon king Ravan, to underline the theme of the victory of good over evil. Between the performance of the Ramlila, the effigy will be raised and set on fire, and the giant effigy will crackle with dazzling fireworks. The 60-ft tall effigy is ready.
The annual Vijayadashmi function of the Rashtriya Swayayamsewak Sangh (RSS) will be held at their Reshimbagh ground on Wednesday morning.
The 'Dhamm Chakra Pravartan din', the anniversary when Dr Babasaheb Ambedkar embraced Buddhism in city in October 1956, will be held at Deekshabhoomi on Wednesday.
Sarsanghchalak Mohan Bhagwat will deliver the keynote address while Swami Dayanand Saraswati from Chinmayanand Mission will be the chief guest on the occasion.
Maharashtra Minister for Social Justice and District Gaurdian Minister Shivajirao Moghe will be the chief guest at Deekshabhoomi, where lakhs of followers of the late dalit leader have started converging.
BJP national president Nitin Gadkari will also be the chief guest there, Dr Ambedkar Smarak Samiti general secretary Sadanand Fulzele said.
Dhammachakra Pravartan Din main prograam tomorrow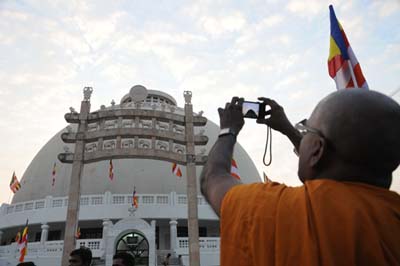 The main programme of Dhammachakra Pravartan Din will be organised by the Dr Babasaheb Ambedkar Smarak Samiti on October 24 at Deekshabhoomi in the city. This was informed by secretary of samiti Sadanand Fulzele during a press conference organised here on Monday.
The programme will be presided by former governor of Kerala and president of the Smarak Samiti R SGawai. District guardian minister Shivajirao Moghe, Bharatiya Janata Party (BJP) national president Nitin Gadkari, employment guarantee scheme (EGS) and water resources minister Nitin Raut and food and civil supplies minister Rajendra Mulak will be present as chief guests on this occasion.
Thai group to perform
A group of 25 performers from Thailand has come to the city. The group will perform after the main programme. The police department has given special permission to use loud speakers till midnight for this programme.
Thousands take deeksha
Though the deeksha daan programme is scheduled to take place on Monday, the people started taking deeksha at the Deekshabhoomi from Monday itself. Thousands of people took deeksha from Bhante Nagarjun Surei Sasai today. Each of these persons was given a certificate.