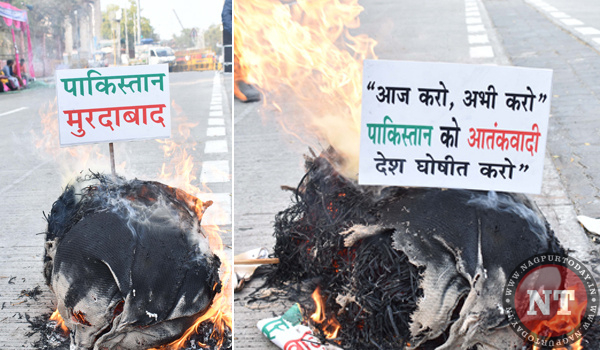 Nagpur: Following the ghastly terror attack on army convoy in Jammu and Kashmir's Pulwama, killing 40 soldiers, the anger and tension simmered throughout the nation. The citizens voiced in unison to avenge the martyrdom which was also echoed by Prime Minister Narendra Modi during the poll rally in Madhya Pradesh's Jhansi.
As the nation is exasperated and desperate to see India striking back, Nagpur too nurses similar sentiments. This was evident when a wave of expression displaying solidarity towards the soldiers who lost their lives, flooded the city streets on Friday. A candle meeting was also organised to pay tribute to the soldiers.
The people from Muslim community also organised a protest rally to show their anger towards Pakistan, assumed as the perpetrator of the attack.
The placards bearing Pakistan Murdabad and appeal to declare Pakistan a terrorist country.