Cindrebay's Annual Day and Graduation Ceremony Celebration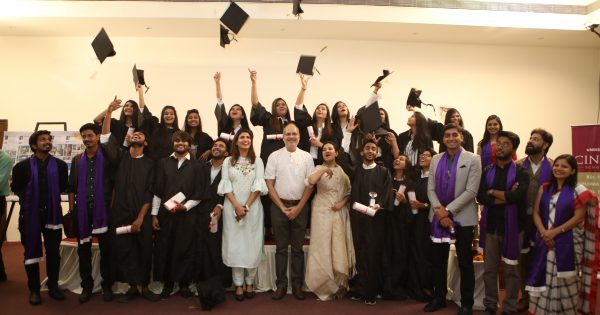 Cindrebay is a boutique institute providing Degree and Diploma Courses in Fashion Design and Interior Design. Interior Design being their forte, they have grown very rapidly and now Cindrebay is the leading name in Interior Design education in Nagpur. Cindrebay School of Design, Nagpur started its journey in May 2017 and has celebrated their second year anniversary on May 4 at Chitnavis Centre. This anniversary also marked the graduation ceremony of the Interior Design Diploma students.
The event started with lighting the lamp by Khushboo Agarwal, Nikhil Mundle and Shilpa Agarwal which was followed by the talk of the founders of Cellar Door Design Studio. Architect Nikhil Mundle congratulated and encouraged all the graduated students by sharing a short story around working with all of your heart and strength. Architect Khushboo Agarwal thanked all the faculty members and students for being a part of the institute. Shilpa Agarwal who is an industrialist shared her life story and motivated all the students for their career in design. Architect Ashok Mogha gave a presentation which left the audience and students awe-struck. The event was ended up by giving awards to the diploma rank holders. The invitees were parents, Architects, Interior Designers and Builders from our city. It event was a great success as every student left with content faces and a vision for a bright future.