CIIMS organised workshop on Immunological and Molecular techniques for diagnosis of Neurological diseases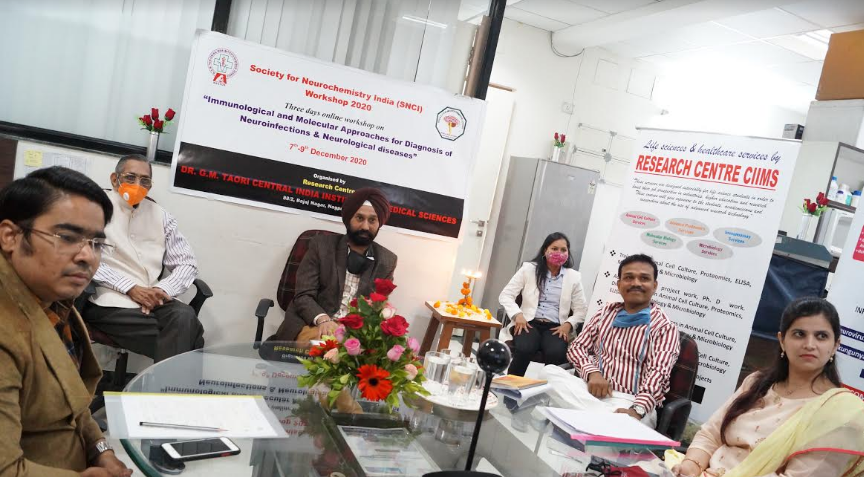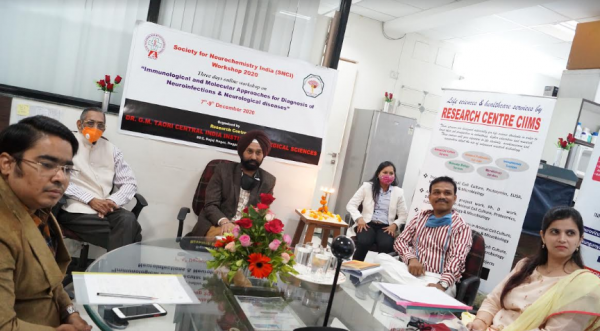 Central India Institute of Medical Sciences (CIIMS), Research Laboratory had organized Three-day online SNCI Annual workshop on the theme" Immunological and molecular approaches for diagnosis of Neuroinfections & Neurological diseases" Under the banner of Nagpur chapter of the Society for the Neurochemistry India (SNCI) held on 7-9th December 2020.
Society for neurochemistry India (SNCI) conducts hands on workshop every year in different parts of the country to promote neuroscience research in the country by giving exposure to the participants about advanced research tools & techniques with the help of the Local Coordinating Institutes. This time, the workshop was coordinated by the Research centre, CIIMS, Nagpur through a virtual mode due to the COVID pandemic.
Guests for the inauguration & valedictory function of the workshop were Professor M.K. Thakur President, SNCI, & Professor BHU, Varanasi, Professor, P. Prakash Babu, General Secretary, SNCI & Professor UoH, Hyderabad, Dr. Lokendra Singh, Director, CIIMS, Nagpur, Dr. H F Daginawala, Honorary Consultant, Research Centre, Dr. Rajpal Singh Kashyap, Secretary, SNCI and Director, Research,CIIMS Dr. Amit Nayak, Organizing secretary of the workshop & Sr. Scientist, Research Centre, CIIMS, Dr. Aliabbas Husain Joint organizing secretary for the workshop & Scientist, Research Centre, CIIMS, Nagpur, Guest speakers & chairpersons for the workshop
The program started with a brief introduction of the workshop by organizing Secretary Dr. Amit Nayak. Dr. Nayak mentioned that a total 40 participants from different life science research disciplines, across the country, have been selected to attend the workshop. The workshop includes the technical demonstration of the two important research tools Molecular Biology (PCR, RTPCR, & LAMP PCR) and ELISA by Ms. Rima Biswas, Ms. Jayshree Shukla, Mrs. Payal Khulkhule (Chauragade), & Ms. Sheena sheikh. Similarly, eminent scientists across India delivered, on various aspects. Dr. Kashyap gave an overview about the need & importance of the immunodiagnostic & molecular techniques, Dr. Suhel Parvez, Jamia Hamdard, New Delhi, India delivered talk on "Applications of Neurophysiology in Deciphering Cellular and Molecular Mechanisms in Neuroscience", Dr. Heena Tabassum, ICMR Delhi, gave the video demonstration of the tMCAO model for testing therapeutic interventions of ischemic stroke, Dr. Rita Christopher, NIMHANS, Bengaluru, India talked about "Recent Advances in the Biochemical diagnosis of Neurometabolic Disorders".
Apart from these special talks were also arranged on topics like manuscript writing, Basic Statistical analysis used in Medical Research & Reverse Vaccinology- a Platform for developing promising vaccines, delivered by Dr. Saravana Babu Chidambaram, Dr. Amit Nayak & Dr. Dilip Gore respectively. Dr. Aliabbas Husain and MS. Rucha Parsodkar also shares the CIIMS experience on Bench to Bedside research and commercialization approaches & translational challenges with the participant. The complete workshop session was done virtually, with the help of an enthusiastic research team, Ms. Abhaya Kanoje, Saumitra Mardikar, Ms. Sonali ………., and other research staff, CIIMS. .
The feedback received from the participant shows that they were very satisfied with the workshop. The workshop was a grand success.