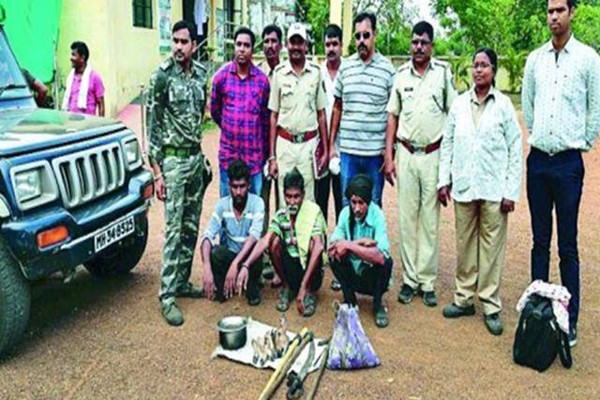 Nagpur: The number of arrests in connection with poaching of a chital or spotted deer in village Chitegaon, Mul taluka of Chandrapur district has gone up to eight. The eight accused, in connivance with each other, had hunted the spotted deer by trapping it in a wire noose at a lake in Chitegaon village of Saoli Forest Range on Monday, May 14. After killing the chital, the three of the eight accused were found trying to sell the meat but were caught by a wildlife activist and photographer Rajesh Bansod and Tanmay. The three accused were later handed over to Forest Department officials.
The forest men subjected the three accused namely Dadaji Vaitagu Bhoyar, Gangadhar Dadaji Bhoyar, both residents of Maregaon, and Devrao Bapuji Mandade, resident of Chimdha, to intense interrogation. The accused named five more poachers. Subsequently, the remaining five accused were also arrested by Forest Department.
It may be recalled that three poachers were caught red-handed while killing a spotted deer or chital and selling its meat in Maregaon forested area on Monday morning. The three poachers were caught by two wildlife activist and photographer named Rajesh Bansod and Tanmay and handed over to Forest Department officials.
While Dadaji and Gangadhar Bhoyar were caught by Rajesh Bansod in Maregaon village, Devrao was caught by Tanmay. The three accused killed a spotted deer or chital and were selling its meat. The meat was seized. The three accused along with the deer meat were handed over to forest department personnel.
The chital or cheetal, also known as spotted deer, is protected under Schedule III of the Wildlife (Protection) Act, 1972.