Nagpur: Just in time for Children's Day and during World Vegan Month, a group of children varying from KG to standard IV were found wearing chick costumes on the steps of Eternity Mall at 4 pm on Tuesday while volunteering for People for the Ethical Treatment of Animal (PETA) India and PFA Nagpur with the aim of educating people about the best way to help stop animal suffering while improving their own health is to go vegan.
While interacting with Nagpur Today, PETA India campaigner Radhika Suryavanshi from Mumbai said that "The gruesome killing of countless male chicks simply because they cannot lay eggs is not only cruel but also entirely unnecessary. It is easy to cook using plant based ingredients instead of supporting the cruelty of the egg industry,"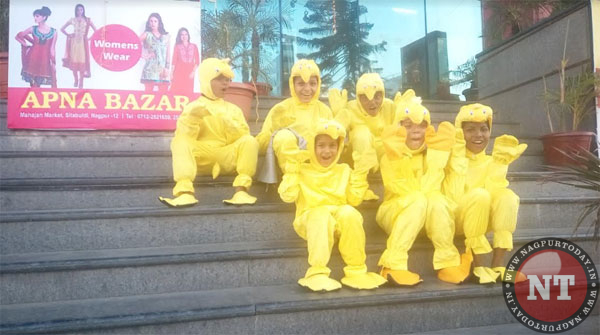 "In addition to sparing chickens and other animals immense suffering, people who go vegan dramatically reduce their carbon footprints as well as their risk of suffering from cancer, heart disease, diabetes or obesity," she added.
The recent investigation from PETA revealed that in the several hatcheries and farms run by top players in the Indian egg and meat industries in Andhra Pradesh and Telangana, majority of the chicken used for eggs and meat in India are reared, reveled for the first time that millions of male and otherwise unwanted chicks in the country are commonly ground up, drowned, burned, crushed thrown into rubbish bins and even fed to other animals while still alive.